Latest News
Dual Petrol Injection Systems – Technical Tip
Dual Injection Fuel systems combine the knock and fuel economy benefits of Gasoline Direct Injection (GDI) technology with the lower particulate emissions of Port Fuel Injection (PFI) systems.
Port Fuel Injection or Multi-Point Fuel Injection is a system that has one fuel injector per cylinder and injects fuel into the inlet manifold onto the back of the valve. Technicians will be very familiar with this system as it has been used on vehicles in Australia for many years.
As the demand for improved fuel economy and emissions increased due to customer demand and government legislation Gasoline Direct Injection was introduced and became the new standard. The major advantage of GDI is its increased fuel efficiency allowing manufacturers to downsize engines and reduce emission levels. In the GDI system the fuel injector is mounted in the head and injects fuel directly into the combustion chamber. While GDI reduced the amount of carbon dioxide from exhaust emissions they increased the amount of particulate matter as part of their exhaust emissions. Another downside of GDI is an increased build-up of carbon in the intake manifold and on the back of the valves.
Combining the GDI and PFI


Image sourced from Bosch Mobility Solutions Website - https://www.bosch-mobility-solutions.com/en/solutions/powertrain/gasoline/gasoline-direct-injection/
Toyota first introduced a dual injection system in the 2GR-FSE engine in the Lexus GS models from 2007 in the Japanese domestic market. They call this the D4-S.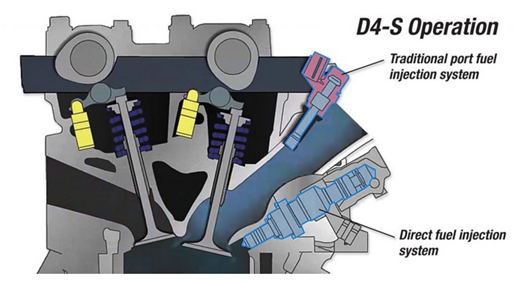 Image sourced from Import Car website - https://www.import-car.com/toyota-direct-injection-port-injection-why-not-both/
In the Australian market this system is fitted to the Toyota 86 and the Subaru BRZ. Other manufacturers using dual injection systems include Audi, Ford, Hyundai and Nissan.
Operation
Manufacturers will have their own strategies of operation but in most cases will use port injection at idle. During low to medium loads and engine speed both injectors are used and at high loads direct injection is used.
This allows the engine management system to use both stratified and homogeneous combustion strategies using inputs from many variables including engine temperature, throttle position, engine speed and engine load.
While Dual Petrol Injection Systems solve some of the problems by combining the benefits of both systems it does add complexity and cost for the diagnostic technician and manufacturer.

Here at PAT we're constantly working with OE suppliers and vehicle manufacturers to ensure we stay up to date the latest technologies. This constant research and development allows PAT to have the parts and technical knowledge available to our clients as transportation evolves.
The full range of Premier Auto Trade products are now available in the aftermarket via a network of specialised resellers and leading automotive groups.