Latest News


The use of Electric Water Pumps on vehicles is ever increasing. Electric Water Pumps provide the ability of demand dependent operation. This allows the vehicle electronics to determine the correct amount of coolant to circulate around the vehicle at any given time. A conventional cooling system has a belt/mechanical driven water pump which operates whenever the engine is running robbing the engine of energy and increasing fuel consumption and emissions
Electric Water Pumps have become indispensable and are used in vehicles with Internal Combustion Engines (ICE), Hybrid Electric Vehicles, Battery Electric Vehicles and Hydrogen Fuel Cell Vehicles. The ability to control the output of the Electric Water Pump enables optimal thermal management of an electric motor, battery pack, power electronics, HVAC and internal combustion engine cooling system. An added advantage is they allow cooling or heating to continue even after the vehicle is switched off. Many manufacturers now use multiple Electric Water Pumps in their vehicles.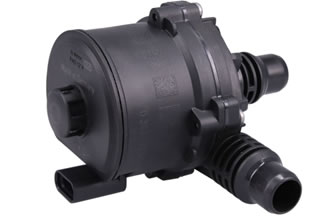 EWP-018 BMW
The PCM, BCM or other electronic modules look at various sensors in the vehicle to determine if cooling or heating is required and the appropriate speed of the Electric Water Pump. Pump speed is controlled using pulse width modulation (PWM). Most diagnostics are performed using the appropriate scan tool as most systems will set fault codes and illuminate a check light when a fault occurs, however it is important that the technician does not forget the basics of checking power, earth and voltage drop within the circuit. Always refer to the manufacturer's specifications and procedures.

EWP-014 Lexus

Electric Vehicles (BEV)
In many Electric Vehicles the cooling system is controlling the temperature of the battery pack as well as some of the power electronics. An Electric Water Pump is used to circulate coolant. The coolant circuit still has a radiator but some systems include the air conditioning systems in the cooling circuit, using a small evaporator to allow refrigerant to absorb heat to provide cooler temperatures. Not all BEV's use coolant to control battery temperature, the Nissan Leaf battery pack is air cooled and some vehicles use the air conditioning system only for the battery pack but coolant for the cooling of other components.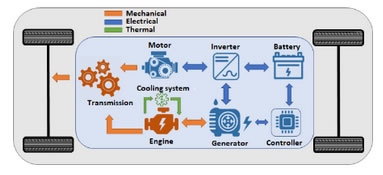 Image source: hitachi.co.in 
The PAT Emission Range includes an ever increasing range of Electric Water Pumps from the world's leading manufacturers.
When you supply and fit products from PAT you can expect a product designed and tested to the vehicle manufacturer's specifications offering OE form fit and function.