Latest News
Failed Air Temperature Sensors Symptoms
Failed Air Temperature Sensor (ATS) symptoms that a technician needs to investigate to determine the cause and source of ATS or circuit failures.
As covered in detail in the previous ATS article, the ATS sensor is an increasingly necessary and important requirement for the monitoring of various air temperature values throughout the engine management system.
Unlike the earlier EFI systems that generally utilised a single IAT sensor in the air track or intake manifold, the current trend is to utilise multiple air temp sensor data from thermistor units strategically placed throughout the control system. These thermistor units may be integrated in various system components or as standalone units in the air intake track.
Typically:

The importance of monitoring various air temperature conditions in and around the engine control system (to ensure air mass is calculated accurately) is a necessary requirement to ensure fuel mixtures and emissions are at levels that are acceptable for all driving and climatic conditions.
An incorrect ATS output signal will generally create symptoms that a technician is required to identify during the diagnostic procedure.
Typical ATS symptoms:
Incorrect fuel mixtures throughout the driving range.
An open or short in the Intake air temp sensor will generally result in output voltage extremities and create an over rich or over lean condition that may result in power loss and possible fault code logged. This may be quickly identified with the use of a suitable scanner and monitoring short- and long-term trims.
A P0112 or P0113 fault code may be typically logged.
P0112 – Results from a low circuit voltage which indicated a temp of up to approx. 150 C.
P0113 – Results from a high circuit voltage which indicates a temperature as low as -40 C.
Note: Air temperature in many cases is utilised to manage the EGR valve operation. Naturally, no EGR operation will result in a dramatic increase effect of Nox emissions.
The ATS is an important data requirement utilised by the PCM to constantly adjust fuel mixtures as required. Any incorrect data has an affect that would result in poor fuel economy.
New trends in Air Temperature data measurement.
The IAT (Intake Air Temperature) sensor "2" located in a Bosch 8 pin MAF sensor on later vehicles transmits a frequency (Hz) to the PCM. The scan tool displays the IAT sensor 2 data in degrees (C / F) and frequency (Hz)
Typical expected data test:
A frequency measurement with ignition switched on and static engine is typically 18.5 to 20.8 Hz. The frequency of the temperature signal generally remains constant with the duty cycle of the signal changing proportionally to the intake air temperature.
SENT Protocol
Many manufactures have changed the MAF output signal method (including IAT signal) and are now utilising the SENT protocol.
(Single Edge Nibble Transmission).
This is a point-to-point scheme for transmitting signal values from a sensor to a controller and allows for multiple data to be sent on one line.
Typically, a Bosch HFM 7/8 using SENT protocol, a single data message can transmit temperature, barometric pressure, airflow and humidity on the same signal line.
Suitable test equipment is required to monitor the sent protocol data.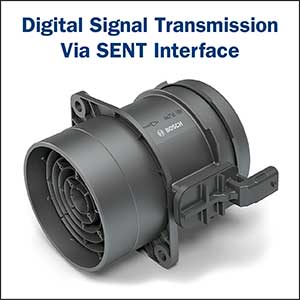 The Premier Auto Trade Sensor range includes over 30 Air Temperature Sensors (ATS) from the world's leading manufacturers, covering almost 3 million vehicle applications in Australia and NZ.
When you supply and fit products from Premier Auto Trade you can expect a product designed and tested to the vehicle manufacturer's specifications offering OE form, fit and function. Premier Auto Trade distributes products throughout Australia via a network of specialised resellers and leading automotive groups.