Latest News
Fuel Rail Sensors (FRS)
What a technician needs to know when working on a Fuel Rail Pressure Sensor on Low Pressure and High-Pressure Petrol vehicle systems.
What you need to know when working on a 6 terminal dual feedback FRS system on a Common Rail Diesel.?
High and Low Petrol engine fuel rail pressure sensors.
Generally, the Fuel Rail Pressure Sensor is utilised on the (High Pressure) Direct Petrol injection engines to monitor the continuous changing of high fuel pressure to assist the PCM in ignition and fuel system control.
Alternatively, there are vehicles fitted with the "lower pressure conventional EFI fuel injection system" that utilises a fuel rail sensor in conjunction with a Fuel Pump Driver Module ( FPDM) located near the fuel pump to ensure the correct fuel pressure is maintained in the fuel rail to ensure correct fuel delivery rate through the injectors to the cylinders.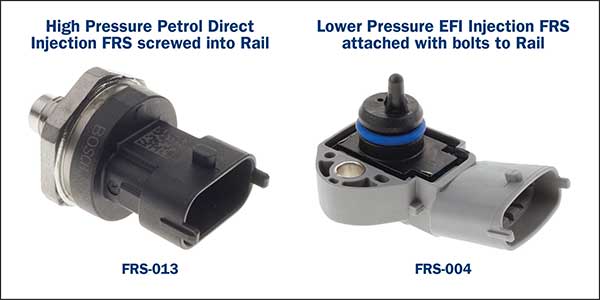 Typically: Ford European vehicles (e.g. Kuga/Focus) as well as Volvo and Land Rover vehicles plus other makes for lower pressure FRS as shown in image below.
Typically: the fuel pressure may be continuously regulated between 3.0 and 5.0 Bar on this system.
Note: The electrical testing procedure for these sensors are similar to the CRD sensors with the system fuel pressure being the difference. (Refer previous FRS article for electrical test procedure).
The direct injection high pressure FRS:
Due to the higher operating fuel pressure on this system, the FRS is generally screwed into the fuel rail. Note: in most cases this system utilises a low fuel pressure sensor as well as the high-pressure sensor to allow for the PCM to monitor all areas of the fuel supply circuit. (Low pressure is generally controlled by the fuel pump control driver module signal to the low-pressure pump)
Typically, approx. 4.0 – 5.0 Bar
Incorrect pressures for Both high- and low-pressure systems will generally cause performance issues and must be investigated and corrected.
Typical expected FRS electrical results on a Petrol Direct Injected vehicle.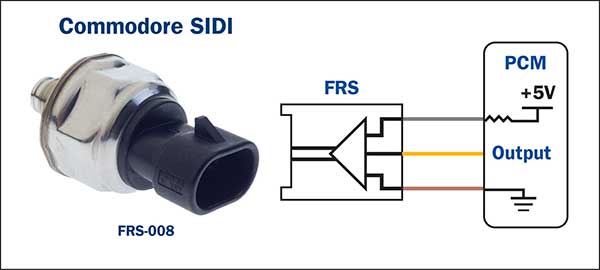 Please ensure the 5V reference and the ground circuit is acceptable prior to testing the output.
Output Signal Test:
Key ON only 1.2V
Idle at normal operating temperature 1.3V
Voltage increases with higher fuel pressure.
This may be tested with a suitable oscilloscope or scanner for accurate results or with a multimeter for a quick guide.
Common Rail Diesel - dual feedback Fuel Rail Sensors.
Some CRD systems utilise a dual feedback FRS which provides 2 voltage signals to the PCM on current fuel rail pressure.
Note: Single output signal units were covered in our previous Fuel Rail Sensors article.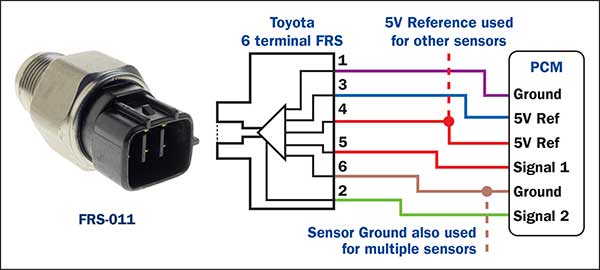 Typical expected test results for dual feedback FRS.
Please ensure 5V reference and sensor ground terminals are acceptable prior to testing signals.
Fuel pressure signal 1 expected voltage:
Key on only 1.4V
At idle 2.0V
Voltage increases as rail pressure increases.
Fuel Pressure signal 2 expected voltage:
Key on only 0.9V
At Idle 1.4V
Voltage increases as rail pressure increases.
Any inconsistencies in expected pressure may result in:
Possible performance issues
Limp home mode condition.
Engine fault light on.
Logged DTC.
The Premier Auto Trade Sensors range includes Fuel Rail Sensors from the world's leading manufacturers, covering almost 1.5 Million vehicle applications in Australia and NZ
When you supply and fit products from Premier Auto Trade you can expect a product designed and tested to the vehicle manufacturer's specifications offering OE form, fit and function. Premier Auto Trade distributes products throughout Australia via a network of specialised resellers and leading automotive groups.