Latest News
ICON Series Hoses
What Technicians need to know when confronted with hose leaking or burst conditions on a vehicle, as well as the personal safety concerns for the affected vehicle and other vehicles on nearby or related roads.
Faulty Transmission Cooler Lines, Low- or High-Pressure Fuel Lines, or Power Steering Hydraulic Hose can create major component or system failure and split or leaking Brake Vacuum Hose can also be generally problematic to engine performance as well as to personal safety, due to the possible reduced braking affect.
Transmission concerns:
Due to the extreme demands placed on many vehicle radiators to maintain a stable engine temperature to ensure the required emission levels are able to be controlled and maintained, some radiators may fail at the integrated automatic transmission oil cooler, creating a condition where coolant may enter the transmission cooler lines and contaminate the transmission oil, causing eventual failure of the transmission itself.
This of cause results in a major repair and comes with a hefty repair cost. This failure has occurred on a variety of makes and models and may be more frequent when the vehicle is used for towing as the heat in the transmission is generally increased and the radiator put under more pressure.
Many concerned vehicle owners with this potential condition have reverted to by-passing the automatic transmission oil heat exchanger altogether that is integrated in the radiator and retro fitting an external transmission oil cooler that relies on air flow only to assist in the heat dissipation process. Some have decided to fit the transmission oil cooler in series with the radiator heat exchanger as a secondary cooling system but the possibility of the coolant contaminating the transmission oil still exists. The in-series application should only be contemplated with a known good radiator.
Either way, only quality transmission oil hose must be used as many transmissions now utilise high pressure in the oil cooling circuit and a major leak may cause transmission failure and environmental and safety concerns on the road. Under no circumstances should fuel hose be used for transmission oil applications as material incompatibility creates hose swelling.
Typical transmission oil cooling methods: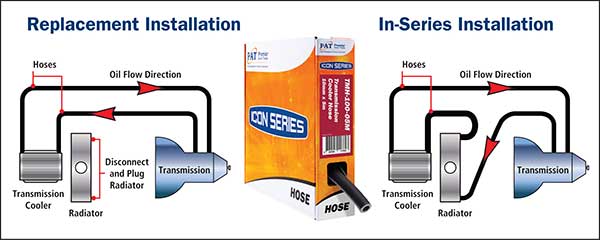 ICON Series Transmission Cooler Hose (TMH) is available in: 8.0mm – 5/16", 10.0mm – 3/8", 12.5mm – 1/2".
Fuel system concerns:
Regular thorough inspection of flexible rubber fuel lines is required on both low pressure "carburetted" and high pressure "EFI" systems to minimise any fuel leakage event due to fuel hose disintegration or bursting. Any fuel leakage event near an ignition point can become catastrophic on current vehicles due to the high pressures and flows that the fuel is required to reach for normal system operation.
Fuel hose deterioration unfortunately begins internally and is not visible until the fuel starts to leak. It is strongly recommended that the fuel line should be renewed regularly, especially at points near extreme heat that can cause the rubber hose to harden and eventually perforate.
Only quality fuel hose must be used and attached suitably to minimise any hose damage. A knowledge of high-pressure and low-pressure fuel system circuits are a requirement for all technicians. The use of low-pressure hose for high-pressure applications is a recipe for disaster.
Typical example of high- and low-pressure application: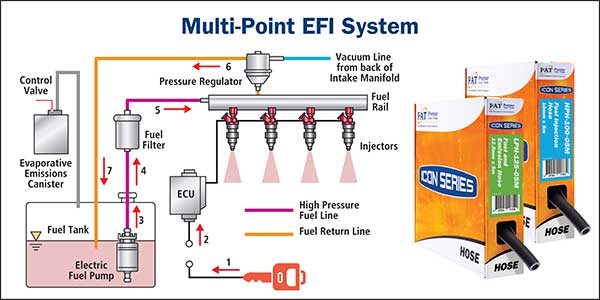 ICON Series Low pressure fuel hose is available from: 3.0mm – 1/8" to 12.5mm – 1/2". High pressure fuel hose is available from: 6.5mm – 1/4" to 10.0mm – 3/8".
Note: Race and Performance fuel line and hose also available if required.
Power steering concerns:
Power steering hydraulic hose is also susceptible to deterioration over time. Seepage or leakage from any hydraulic power steering area may cause the oil level to reduce to a point where power assistance becomes affected and the effort to steer the vehicle is increased. ICON Series Power Steering Hose can replace damaged or leaking low pressure return lines. Continuous leaking of the power steering oil also adds to the road hazards experienced by all drivers every day.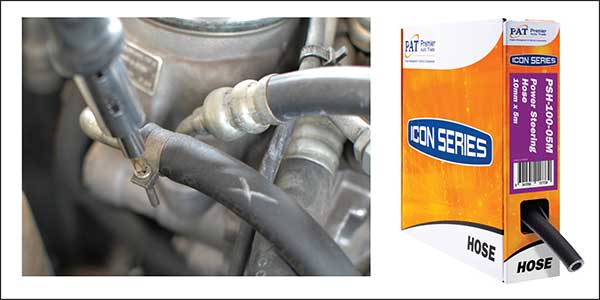 ICON Series Power steering hose is available in: 10.0mm – 3/8".
Power Brakes concerns:
A power brake vacuum hose failure will reduce braking efficiency during driving conditions that can potentially put the driver and any passengers in possible harm. It is important that the hose/s are regularly checked for potential failure point such as crimping and oil saturated areas.
Any signs of potential vacuum hose failure must be thoroughly checked, and the hose/s replaced.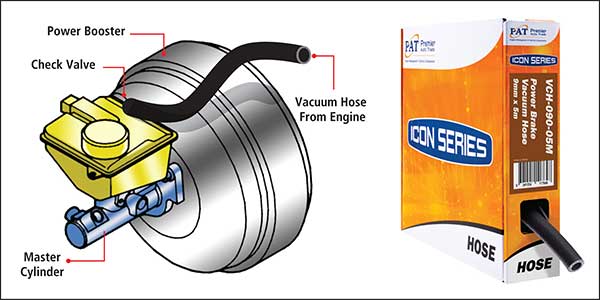 ICON Series Power Brake hose is available in: 9.0mm – 11/32".
The Premier Auto Trade ICON SERIES range of replacement AUTOMOTIVE HOSE includes five specific hose types in a range of sizes, offering different specifications of heat ranges, resistance and construction with superior performance, safety and longevity, suitable for a range of vehicle applications. All ICON Hoses come with a Premier Auto Trade 2 Year Warranty
When you supply and fit products from Premier Auto Trade you can expect a product designed and tested to the vehicle manufacturer's specifications offering OE form, fit and function. Premier Auto Trade distributes products throughout Australia via a network of specialised resellers and leading automotive groups.