Archived News
Latest and Largest Catalogue from Premier Auto Trade
April 2012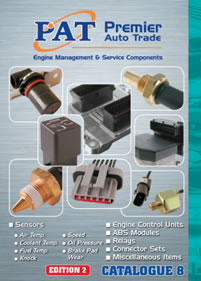 Premier Auto Trade is pleased to announce a further update to their product catalogue series with the upcoming release of Catalogue 8, edition 2, their largest catalogue yet.
This new catalogue includes over 520 part numbers, with over 11,000 vehicle application listings, making it one of the largest of its type in the Australian Aftermarket. The catalogue features over 360 new part numbers and over 7500 new application listings over the previous issue, covering Petrol, LPG and Diesel vehicles.
This new catalogue features a huge range of products including Coolant Temperature Sensors, Air Temperature Sensors, Knock Sensors, Oil Pressure Switches, Relays, Connector Sets and other miscellaneous items. There are also several new product lines added, including ABS modules, Fuel Temperature Sensors, Engine Control Units (ECU), and Speed Sensors.
Premier Auto Trade has also launched a range of Brake Pad sensors which also feature in this new catalogue.
Premier Auto Trade's range of Engine Management and Service Components specialises in genuine and original equipment (OE) products from the world's leading manufacturers including Bosch, Delphi, Pierburg, VDO, Standard Motor Products, Walbro, Denso, FAE, Valeo, Hitachi, Bougicord, Bremi, Mitsubishi Electric, Walker Products Turbosmart, Fuelab, BMC Air Filters and Haltech.
Premier Auto Trade is located in Melbourne, Sydney and Brisbane and distributes products throughout Australia via a network of specialised resellers and leading automotive retail groups.
The Premier Auto Trade catalogues are available to specialist resellers and distributors.