Latest News
MAP Sensors Testing
What a technician needs to know when testing the MAP sensor on a naturally aspirated intake system. (0 – 1 Bar).
As covered in detail in the previous MAP sensor article, we know that the MAP sensor converts the manifold pressure to a voltage or frequency output signal to assist the PCM in fuel and timing control but the information may also be utilised for the control of other engine systems.
Multiple engine conditions may cause the required MAP sensor signal to alter which affects engine fuelling and in turn performance and emission levels.
Typically Common:
Vacuum leaks
Exhaust restrictions.
Valve timing irregularities
Misfiring
Excessive engine wear plus other conditions.
The importance of thorough electrical testing.
In many cases, a DTC (fault code) may suggest that the MAP sensor may be potentially faulty but further testing confirmed the condition was the result of other variants.
In other cases, the MAP sensor may not set a DTC (fault code) unless severely out of range as the operating range is quite broad but the effect of a slight MAP signal variation may cause the PCM to alter engine fuel and timing control which can have an effect on engine performance and emissions. This may be evident during short- and long-term trim measurements when using a suitable scanner.
Note: A technician's thought process must be flexible when interpreting test data during diagnosis.
Specific MAP sensor possible fault conditions or areas that may affect MAP signal that require attention for thorough electrical testing:
Supply Voltage to MAP sensor (reference voltage)
Ground circuit. (Generally, in PCM)
Signal circuit plausibility may be an issue.
Out of range (component error)
Engine backfiring, carbon build up and possible fluid build-up on some MAP sensors are typical causes of out of range or output signal plausibility failures.
Thorough MAP signal testing.
Typically, monitoring serial data information with a suitable scanner may be enough to guide the technician in the next stage required in the MAP sensor diagnostic or testing process.
Confirmation:
With the use of a suitable manifold pressure gauge, (vacuum gauge) as live measurement to validate the serial data and ensure the sensor output information is accurate.
Further confirmation:
A suitable oscilloscope may also be utilised to monitor the electric profile of the pressure sensor output signal in real time.
Typical test procedure: (3 terminal MAP sensor)
MAP circuit plausibility.
Checking MAP values when No activity in the circuit. That is – Key On / Engine Off - KOEO).
Monitoring the scan tool results should indicate Atmospheric pressure. (101Kpa = 1 Bar)


Note:

this would indicate that the "supply voltage", "Ground circuit" and "MAP sensor plausibility" is acceptable and is received by the PCM.
Engine Running Tests (with scanner and vacuum gauge connected)
When the engine is initially started, the drop in manifold pressure can be monitored by the vacuum gauge when the engine idle speed has stabilised. (typically- approx. 38 Kpa or 20" mercury). This average pressure reading is typical of a normally aspirated engine (Non-Turbo) and should be stable with very little needle fluctuation. This pressure value can be verified by the scanner reading


Note:

the "cylinder fuel supply" control relies mainly on MAP and Coolant sensor output signals, so accuracy is essential for correct engine fuelling. Therefore, any DTC condition referring to fuelling problems / Trims would require thorough testing of the MAP sensor plausibility.
Utilising a suitable oscilloscope for MAP profile inspection and comprehensive testing.

Note:

Utilising the sensor ground reference directly, when connecting the oscilloscope, generally results in a clearer/ cleaner sensor profile image.
Initial Crank / Start monitoring expectations.
Quick response in profile change from crank to start condition.
A lot of clear activity.
Utilising high sample rate allows for monitoring detailed individual cylinder intake and accurate MAP sensor sensitivity.
Engine stabilised after starting.
Idle control systems stabilization process (on initial starting) can be monitored.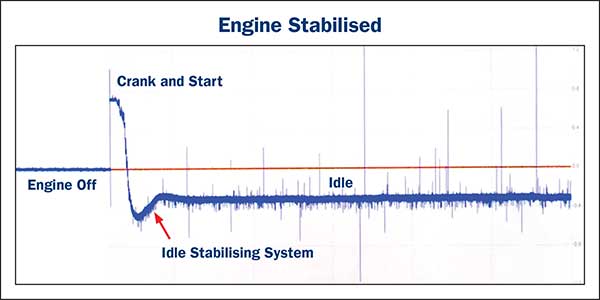 Wide Open Throttle test (snap acceleration)
Profile requirements:
Quick response on rise time of sensor from idle to full throttle (atmospheric pressure). This allows the monitoring of any blockage or contamination that would slow the rise time.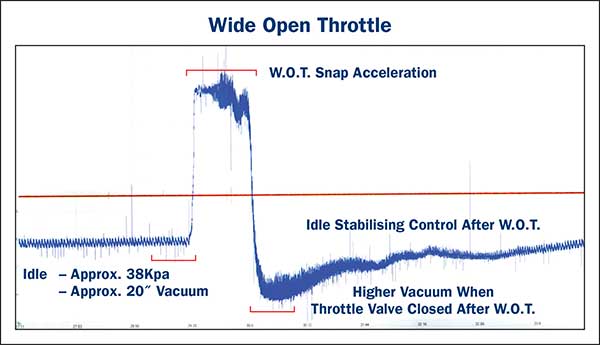 Note: The accelerator release results in a higher that idle vacuum profile resulting when throttle valve closes. The Idle stabilising profile can also be seen which can be used to monitor signs of any air leaks and any idle control system irregularities.
Engine switched OFF from Idle condition. (back to static "engine manifold" atmospheric pressure).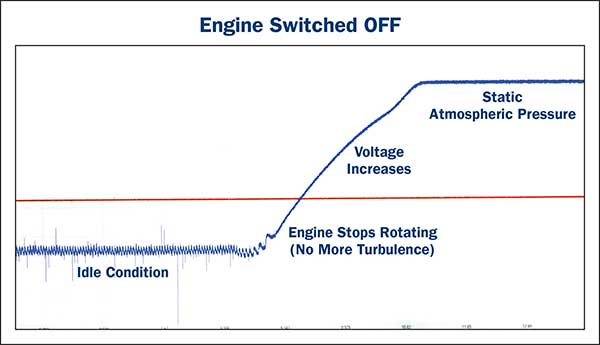 Note: a four terminal MAP sensor integrates an air intake temperature sensor that utilises the extra terminal.
Typical MAP sensor test data requirements to ensure sensor plausibility.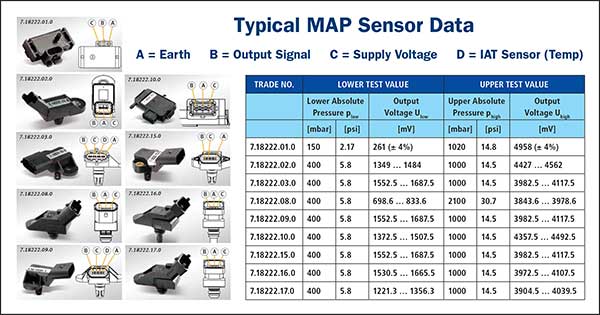 The Premier Auto Trade Sensor range includes 139 MAP Sensors (MAP) from the world's leading manufacturers, covering almost 9 million vehicle applications in Australia and NZ.
When you supply and fit products from Premier Auto Trade you can expect a product designed and tested to the vehicle manufacturer's specifications offering OE form, fit and function. Premier Auto Trade distributes products throughout Australia via a network of specialised resellers and leading automotive groups.