Archived News
More Parts in More Places for Premier Auto Trade
September 2012
Premier Auto Trade has announced the opening of a new distribution centre in Perth WA, as well as significant growth to the common rail diesel components product line.
Due to continued growth and increasing market demand for engine management and EFI service components a new distribution centre has been opened in Perth, allowing Premier Auto Trade to deliver leading service to the Western Australian market.
"Following the opening of our Sydney and Brisbane distribution centres we are pleased to now announce the new Perth facility", said Premier Auto Trade's Managing Director Jim Cots, "Premier Auto Trade continues to expand its national distribution centre network, allowing same day product dispatch to better service our network of resellers. We have built our reputation on outstanding service and this new distribution centre will allow us to offer an even better level of logistic support for our Western Australian based resellers", said Jim.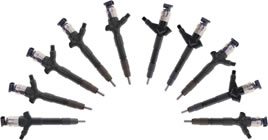 Premier Auto Trade has also announced the release of a new range of Common Rail Diesel components including diesel injectors for many vehicles like Toyota (Land Cruiser, Hiace, Hilux), Ford (Ranger, Transit), Nissan (Navara, Pathfinder), Mitsubishi (Pajero, Triton), Holden (Captiva, Cruze, Epica) and the Mazda BT-50.
Crank sensors, air flow meters, high pressure diesel feed lines, throttle bodies and EGR sensors are just some of the specific diesel components now available for many vehicles. The diesel range already includes some 250 part numbers and almost 2000 applications, and is constantly growing.
Established for 20 years Premier Auto Trade is a Melbourne based national wholesaler specialising in genuine and original equipment (OEM) engine management and service components from the world's leading manufacturers including Delphi, Bosch, Pierburg, Denso, Standard Motor Products, Walker Products, Valeo,  Bougicord, Valeo, Hitachi, Walbro, Bremi, Mitsubishi Electric and VDO.
Premier Auto Trade distributes across Australia through a network of specialised resellers and leading automotive retail groups.