Latest News
Performance Regulators and Gauges
What Technicians need to know about performance Fuel Pressure Regulators and related Fuel Gauges when upgrading a vehicle's fuel supply system for performance applications.
A standard Fuel Pressure Regulator (FPR) valve configured and fitted to a standard fuel system on an engine can control the required fuel pressure for all driving conditions as well as releasing any return fuel flow back to the fuel tank. Retaining residual fuel pressure in the fuel pressure lines when the engine has been switched OFF is also an important feature of the pressure regulator valve that may cause difficult re -starting conditions if this feature fails.
For more details on FPR operation, please refer to our Fuel Pressure Regulators overview.
When a fuel system "supply" upgrade is to be carried out to compensate for mechanical and other modifications for performance increases, it is essential that the fuel pressure regulator can withstand the greater fuel flow from the new upgraded fuel pump.
An FPR that restricts the higher fuel flow alters the pressure control function of the FPR unit as well as increasing the load on the new fuel pump and modifying system fuel flow.
That is: A suitable FPR is used to maintain steady fuel supply, even during dramatic changes in fuel demand. The correct fuel pressure must be used to ensure the necessary air/fuel mixture is correctly maintained to ensure maximum performance is achieved. Over Increasing the fuel pressure does not necessarily increase the expected engine power output through the RPM range.
Typical adjustable FPR units used in the Performance industry, suitable for upgrades of up to 1000HP.
Note: there are 2 intake ports and a return to tank port.
Utilising both intakes for "V" configuration engine with dual fuel rail systems.
Blocking one of the intakes, converts this unit to a single fuel rail system or substituting an in tank FPR for an external unit located on the return side of the fuel rail.
The return remains active for both procedures.
Vacuum/Boost connected to intake manifold for engine load fuel pressure adaption and fuel pressure increase during boost.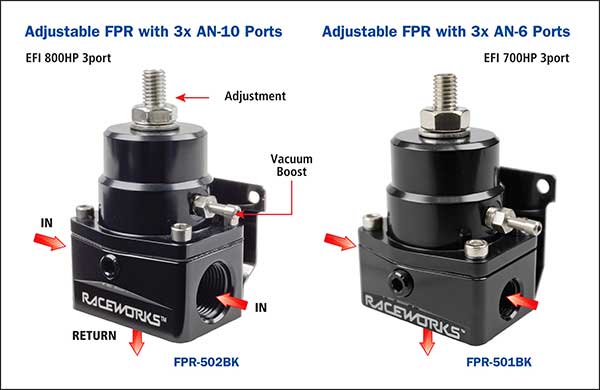 Typical features of a performance Fuel Pressure Regulators:
Due to the variety of fuels used in the performance industry, the FPR is required to withstand the effects of the specific fuel characteristics.
The variation in Inlet and Return ports available allow for a variety of fittings to suit the hose/pipe requirements of the system.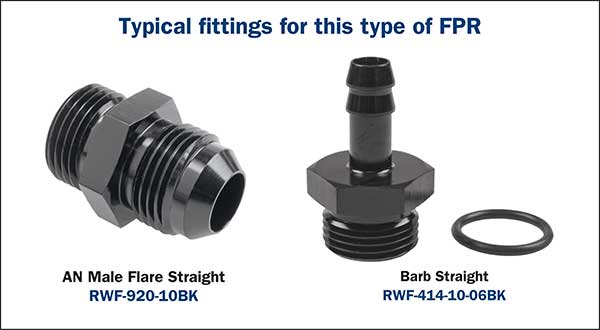 FPR pressure adjustments are typically required for a range of 40-75 psi (2.75-5.2BAR). The Base pressure is generally set with the vacuum port disconnected from the FPR.
Simplifying how the engine vacuum affects the fuel pressure, Connecting the vacuum port to the FPR allows for the varying engine loads to maintain or slightly alter the operating fuel pressure to maintain a constant suitable pressure for all engine loads on a naturally aspirated (non turbo) engine. (Injector opening times and intake manifold vacuum affect the fuel pressure and fuel discharged by the injector).
On engines fitted with forced induction (either Turbo charger or Super charger) boost is applied to the spring side of the FPR diaphragm which results in an increase of potential fuel pressure.
Note: The rate of pressure increase above atmospheric pressure is generally 1:1. That is- for every pound of boost, the regulator increases fuel pressure by 1 pound. PCM tuning is generally required when boost pressures are altered or higher flow injectors are fitted to ensure air/fuel mixtures are suitable.
Rising Rate FPR
Further Increasing fuel supply for forced induction applications (if required) during boost only to increase the required fuel supply, can be achieved and recommended by PCM tuning. In some cases, a Rising Rate FPR may be utilised for a similar affect without PCM altering.
Where the conventional FPR is 1:1 rated, the rising rate units may be typically rated at 1.5:1 or 1.7:1 for common systems or 1.95:1 for higher boost systems. This results in a higher fuel pressure during boost compared to the conventional 1:1 rated FPR units.
Liquid filled Fuel Pressure Gauges
Monitoring fuel pressure during low and high engine loads allows for quick and accurate diagnostics during a potential low engine power condition. Mechanical fuel gauges are commonly used as a low cost but fairly accurate means of checking pressures. Altering the fuel pressure to a required value becomes an easy task by monitoring the pressure gauge as the adjustment is being performed.
The use of fluid in the gauge dampens the engine vibrations for a more accurate pressure monitoring as well as dampening the needle vibration to assist in visual pressure identification. These gauges may be either imperial or metric rated or combined.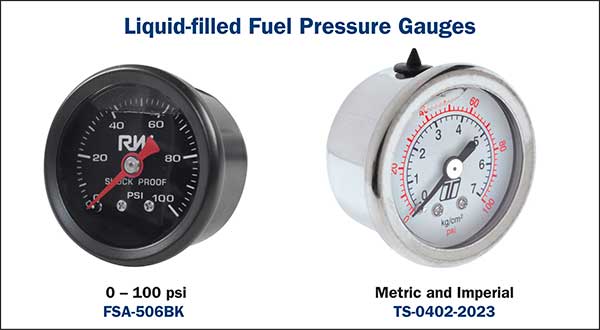 Note: These gauges may be located in the engine bay BUT must not be located near a direct heat source.
Premier Auto Trade offer an enormous range of over 200 Performance Adjustable Fuel Pressure Regulators from the world's leading brands including Turbosmart, Fuelab, Raceworks, SARD and Holley. Suitable for applications requiring a fuel system that supports up to 3000HP, for use with various fuels including Gasoline, Ethanol and Methanol. There are 5 Fuel Pressure gauges to complement the range, available in both Liquid-Filled and Non-Liquid Filled.
Premier Auto Trade distributes products throughout Australia via a network of specialised resellers and leading automotive groups.