Latest News
Testing Electric Water Pumps (EWP)
What a technician needs to know when carrying out tests on a cooling system fitted with an electric fuel pump assembly.
When a fault code has been logged on a vehicle utilising electric coolant pump technology, the technician is required to correctly diagnose, carry out tests and repair/renew any required components so the cooling system may operate correctly.
Note: Refer to previous EWP article for detailed types and operation of electric coolant and water pumps.
Typical common fault codes.
Typical fault codes that may be displayed on a scanner that relate to areas of this type of cooling system that may be created by intermittent and hard faults. Note: Results in Check engine light illuminated, and fault codes displayed as well as possible vehicle overheating.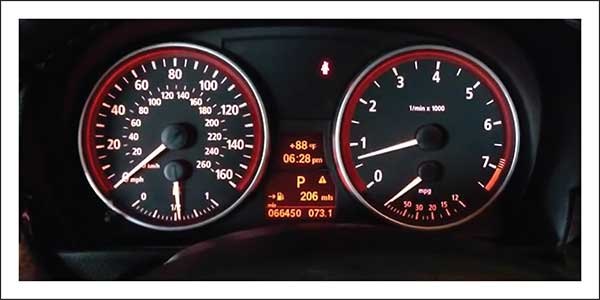 BMW System faults as an example of codes stored in the DME.
FC 2E81 Electric coolant pump, speed deviation, speed outside tolerance.
FC 2E82 Electric coolant pump, cut off over current.
FC 2E83 Electric coolant pump, power reduced operation, dry run.
FC 2E84 Electric coolant pump, communication.
FC 2E85 Electric coolant pump, communication, no voltage at emergency operation input of pump.
Typical possible faults that can cause one or more fault codes to be logged:
Insufficient power supply.
Insufficient grounding.
BSD signal not present. (BMW- Bit Serial Data protocol)
Defective electric coolant water pump.
Electric coolant pump – water pump processor disturbance.
Note: If FC 2E81 and FC 2E85 codes only are logged, disconnect battery for at least 15 min.  After reconnecting the battery, clear any fault memory and check the electric coolant pump operation.
If other codes are logged , check power supply and ground at electric coolant pump.
BMW E90 - E91 - E60 - E61
Pin 1 (Battery power supply)
Pin 3 (Battery power supply)
Pin 4 (Earth)
Also:
Pin 2 (BSD signal – approx. 7.5 to 8.5 V with a voltmeter but more accurate using an oscilloscope) to check the digital signal.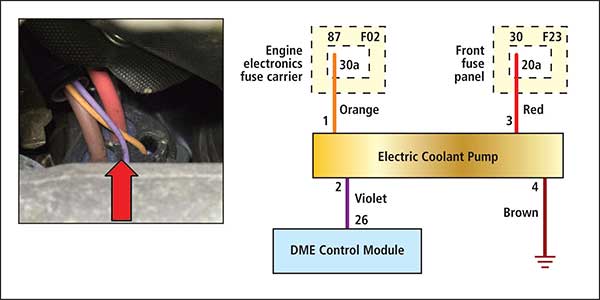 If any power supply / signal/ ground results are not acceptable, further tests are required to determine the source of fault.
If the results are acceptable, carry out tests on the electric coolant pump to ensure it has failed prior to its replacement.
Generally, when the coolant pump begins to fail, the vehicle may overheat at low engine speeds and improves (temp drops) when the vehicle is driven at higher speeds. "This is a guide only." A commonly logged - coolant pump volume fault code – generally indicates that the coolant pump is operating at a speed that is lower than desired by the DME. This of course may be the result of multiple causes.
Note: If an electric coolant pump has been renewed, it is important to flush the cooling system if required and ensure that the correct coolant / inhibitor mixture is used to ensure suitable service life of all related engine components is assured.
Bleeding the total engine cooling system is the final stage of the process that is essential - again, to ensure coolant system component longevity. This may be carried out with a suitable scanner with IGN ON / engine OFF until all air has been removed from the system. This may also be carried out manually on some vehicles using a specific special procedure.
The Premier Auto Trade Sensor range includes 9 Electric Water Pumps (EWP), covering almost 250,000 vehicle applications in Australia and NZ.
When you supply and fit products from Premier Auto Trade you can expect a product designed and tested to the vehicle manufacturer's specifications offering OE form, fit and function. Premier Auto Trade distributes products throughout Australia via a network of specialised resellers and leading automotive groups.