Archived News
Bougicord Launches New Corporate Image
December 2010
To celebrate 50 years of business Bougicord® has launched a new visual identity, a new face for the company. Based in France the Electricfil Automotive Group's aftermarket division Bougicord® is a world renowned brand name, famous for the success and recognition of its ignition lead sets.
Bougicord® specialises in engine control, and supplies markets all over the world, offering a range of different automotive components including:
a full range of ignition systems and components
a range of engine management, temperature and air-conditioning sensors
a range of wires, cables and components
Bougicord's high-quality ignition lead sets feature a unique cable and robust silicone boot designs, which are key features that provide outstanding performance. Additionally, the robust sealing properties within the spark plug terminal connection enhance performance, and were the OEM factory item for VT / VX / VY V6 & VT Holden V8 5.0L & 5.7L (Not Gen III) engines.
Bougicord have recently adopted a new logo, a new graphical look and new colours as part of their new visual identity, which was presented to suppliers and customers during the recent Automechanika exhibition in Frankfurt Germany. The new visual identity is designed to signify progress, and express a technical spirit, innovation and expertise. The new colour scheme (yellow/orange and black) shows the positive and active dimension of Bougicord, its dynamic maturity and the technological way of the cable brand.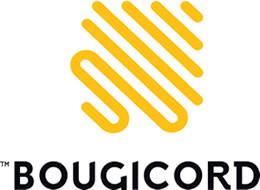 Bougicord products are available to resellers in Australia via distributor Premier Auto Trade. Established for over 25 years Premier Auto Trade is a national supplier specialising in genuine and original equipment (OEM) Engine Management and service components from the world's leading manufacturers including Bougicord. Premier Auto Trade distributes across Australia through a network of specialised resellers and also exports to several other countries in the region.