Archived News
Walker Products Direct Fit Oxygen Sensor Range Expands
March 2012
Walker Products Inc. is one of the largest privately owned manufacturer's of Fuel System Components and Engine Management Devices in the USA. Walker Products began supplying the fuel system needs of the automotive industry in 1946 and has three manufacturing locations, two in Western Colorado, and one in Missouri.
Walker Products manufactures products that meet or exceed OEM standards and specifications for performance and design and is a QS-9000 / TS16949 / ISO-9001 certified company. Walker Products engineering and manufacturing teams have established rigorous processes and testing standards which are the best in their class, allowing maximum control over quality standards by monitoring a wide variety of product performance characteristics.
The Walker Products range of Direct Fit Oxygen Sensors is distributed in Australia and New Zealand by Premier Auto Trade, who now supply over 615 Oxygen Sensors, the most comprehensive range in the aftermarket. The range offers more model coverage, with almost 6000 specific vehicle applications including Petrol, LPG and Diesel vehicles.
Walker Products engineer the right fit, the right look and the right performance in every oxygen sensor they offer. The range of Walker Products Direct Fit Oxygen Sensors offer significant benefits over universal fit to resellers, workshops and the end user: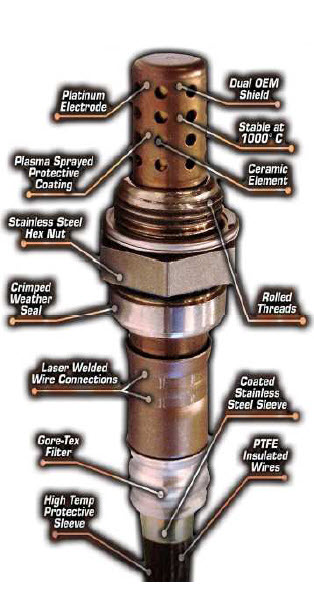 Ensures correct wire configuration and reduces the chance of incorrect connections when joining different coloured combinations.
Less chance of incorrect O2 heater resistance fitted to the vehicle, very important on later models.
Ensures correct operating range sensor used. (Wide band or standard)
Eliminates poor harness electrical joins affecting O2 sensor operation and ensures correct O2 sensor harness length, to reduce stretching, and excess harness excess resting on the exhaust
Reduces the chance of fitting O2 sensors with incorrect exhaust sampling holes at the tip of the sensor
Later 5 wire O2 sensors can be "model specific "with calibrating electrical components integrated in the Sensor harness connector and cannot be altered.
Walker Products Oxygen Sensors feature:
Dual OEM shield
Platinum Electrodes
Stable at 1000 degrees C
Ceramic element
Plasma sprayed coating
Rolled threads
Stainless steel hex nut
Crimped weather seal
Porous PTFE filter
High temperature protective sleeve
Walker Products Oxygen sensors are distributed in Australia and New Zealand by Premier Auto Trade, through a network of specialised resellers and leading automotive retail groups.