Archived News
TPS - Throttle Position Sensors - Don't you want to throttle it?
March 2011
This important fuel input sensor generally located on the throttle body, provides a voltage signal that relates to the position of the throttle spindle / butterfly from an idle condition and up to full throttle.
Why so many types?
There have been many changes in the requirements from this sensor since it was introduced on the early EFI systems right up to the current fly by wire systems.
1. TPS with contacts only
This unit generally incorporates 2 sets of contacts:
The "foot off" accelerator idle position contacts - used to enrich the mixture during idle and to cut out the injector operation when decelerating. Note it is important that the idle contacts are closed during the "foot off" accelerator position and opens as the butterfly moves from the rest position.
Full Load Contacts – used to supply extra fuel during high engine load conditions, generally before full throttle e.g. 60% - 70% throttle.
2. Potentiometer type TPS (3 wire)
This is a commonly used TPS that monitors the accelerator position from idle, all the way to fully opened position. A varying voltage generally from approximately 0.5V up to approximately 4.5V would indicate the throttle position. This is achieved by a simple potentiometer.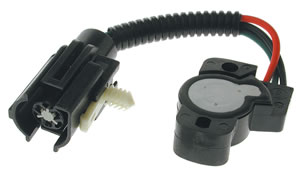 3. Combination of contact and potentiometer TPS
This is a potentiometer type TPS with an integrated idle contact to monitor the "foot off" accelerator idle position. This type is identified by an extra 4th pin, however not all 4 pin TPS units are of this type. Note it is similar to the "contact type" TPS and the idle contact must be closed during the "foot off" accelerator idle condition, and opens as the butterfly just moves from the rest position.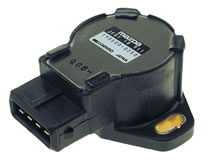 4. Combination of contacts and potentiometer
This is a potentiometer type TPS with integrated idle and full load contacts, generally identified by two separate 3 pin connector plugs.
One plug for the potentiometer that is utilised by the engine management system.
One plug for the contacts that is generally utilised by the transmission system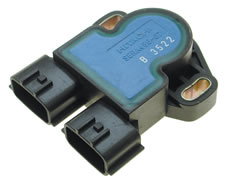 5. Dual Potentiometer TPS
This is a common TPS required by the fly by wire systems to monitor the throttle butterfly movement. Note that even though this TPS has a dual potentiometer it may have as little as 4 pins at the connector plug.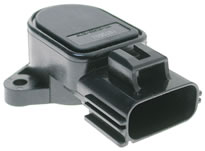 Watch the adjustment
It is critical for correct engine management operation that the TPS is set correctly. An incorrectly adjusted TPS can cause many performance irregularities.
Wiring Configuration
Many of the TPS units may look similar externally but vary dramatically internally. An incorrect unit fitted may cause ECU damage, with definite performance problems.
Throttle the TPS – Something to be aware of
Many vehicles incorporate an engine flood mode as one of its engine controls. This allows for an ECU to switch off the injector pulses during cranking when the accelerator is depressed fully, indicating a flood condition.
Unfortunately an open circuit earth on the potentiometer type TPS would result in a high output voltage that during cranking would result in a "no engine start" condition as the ECU would suspect you have depressed the throttle fully – Be aware.