Latest News
Air Temperature Sensors (ATS)
What Technicians need to know when diagnosing intake Air Temperature Sensor faults on vehicles.
We all know that the IAT sensor (Intake Air Temperature sensor - IAT) signal has been utilised by the ECU as a requirement to assist in the calculation of the intake air mass volume for the incoming air charge.
This relates to both petrol and Diesel applications.
The signal is also used by the various vehicle control modules to activate systems that require temperature parameters to operate. Because of the increased dependency by the ECU on monitoring contrasting intake air temperatures from a variety of system areas, multiple IAT sensors are generally utilised. The task for the Technician is of course, to;

Determine which IAT sensor circuit is suspect.
Test sensor/circuit to verify if faulty.
Repair/replace IAT circuit as required and retest.
Typical IAT sensor locations.
Note: Due to the integration of many of the IAT sensor in other components, it is important to accurately test these units to prevent a possible costly misdiagnosis. (Standalone IAT sensors are generally low cost and test friendly.)
Stand alone IAT sensor
A two wire NTC (Negative Temp Coefficient) thermistor device that produces a resistance change in accordance to the exposed air temperature that it monitors. This may be in the intake between the air filter box and the throttle body.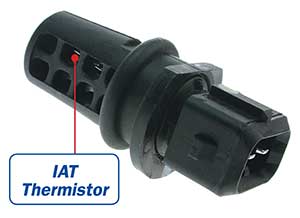 Also, may be threaded directly in the inlet manifold and is sometimes called a MAT sensor (Manifold Temp Sensor).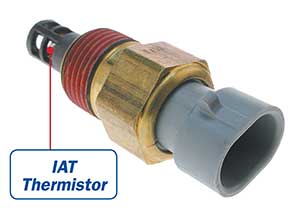 Integrated in the MAP sensor (T-MAP sensor)
MAP sensors that are mounted directly on the inlet manifold may or may not integrate the IAT sensor. The MAP combination with the IAT may be identified by an extra 4th pin at the connector. That is, a standard MAP sensor requires only 3 pins to function.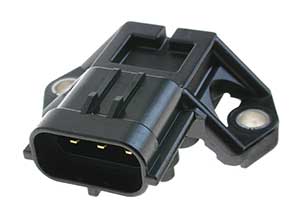 MAP Sensor only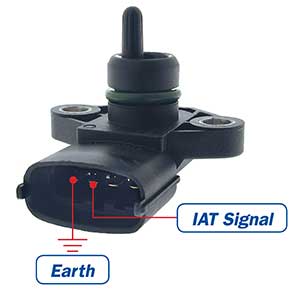 The 4th pin if fitted identifies the T-MAP sensor which utilises the common MAP sensor earth to complete the IAT circuit.
Integrated in the MAF (Mass Air Flow) sensor or AMM (Air Mass Meter)
Multiple pin configurations may or may not indicate an integrated IAT sensor. The minimum circuit requirement for an Air Mass Sensor to function is 3 and units with this number of terminal configurations, do not incorporate an IAT sensor.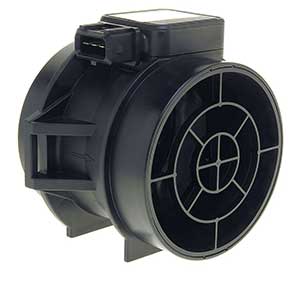 3 Pins Only
A greater number than 3 terminals on the AMM generally indicates the presence of an IAT sensor but there are exceptions and care must be taken when renewing these units to ensure the correct one is fitted.

Note: both these units look alike and may have 5 terminals but only one unit is fitted with an IAT sensor and if incorrectly replaced would result in fault codes logged.
Note: On vehicles fitted with turbo charges, the intake air temperature is generally monitored before and after the turbocharger. This allows the ECU to monitor the intake air temp more accurately. In most cases the pre turbo cold air intake temperature is monitored by the MAF sensor and the post turbo heated air temperature is monitored by the IAT integrated boost pressure/MAP sensor. This allows for a greater accuracy for mixture control and emission reduction.
Other typical areas
In the Air Flow Meter housing (AFM) on earlier vehicles located at the inlet of the air flow chamber and also on the Karman Vortex AMM housing, located at the inlet of the air flow chamber
Testing the IAT sensor
Test methods - on standalone units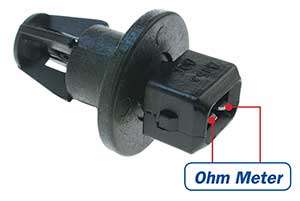 An Ohm Meter may be used to test for open circuits and correct resistance readings.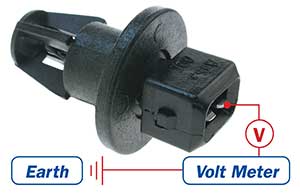 Back probing with a volt meter is generally used to test an IAT circuit.
Alternative Test methods - on AMM units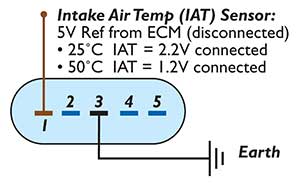 Back probing with a volt meter is generally used to test this typical AMM - IAT circuit.
Alternative Test methods - on T-MAP sensors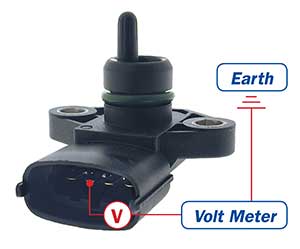 Back probing with a volt meter is generally used to test this typical T-MAP - IAT circuit. Note: Heating the IAT sensor with a hot air gun may assist in quicker diagnosis.
The Premier Auto Trade Sensor range includes over 30 Air Temperature Sensors (ATS) from the world's leading manufacturers, covering almost 3 million vehicle applications in Australia and NZ.
When you supply and fit products from Premier Auto Trade you can expect a product designed and tested to the vehicle manufacturer's specifications offering OE form, fit and function. Premier Auto Trade distributes products throughout Australia via a network of specialised resellers and leading automotive groups.