Latest News
Injector Service Components
What a technician needs to know about Fuel injector service requirements to ensure the vehicle Air/Fuel ratio is not affected.
Fuel injectors in general will eventually reduce the fuel quantity delivered to a cylinder due to multiple causes. Reducing the quantity of fuel required as we all know creates a leaner mixture and results in;
Hard starting
Rough Idling/ uneven running. (especially when engine is cold and relies on a richer mixture)
Misfiring on one or more cylinders.
Poor performance (especially on acceleration)
Increased fuel consumption due to inconsistent spray pattern and over compensating of fuel by the OBD 11 short- and long-term trim system.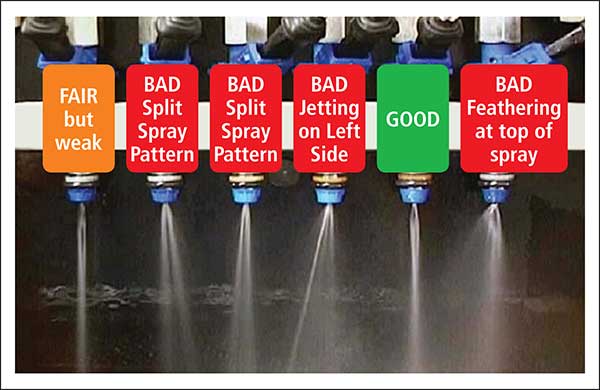 What are the common causes of fuel injectors becoming restricted / blocked / dirty?
First, let's look at the preventable causes.
Water in the fuel tank that can cause rusting of metal lines and fuel rails that flake and restrict the injector filter baskets.

All these rusted components must be renewed to ensure satisfactory system operation.
Filter baskets are generally rated at 10 to 20 microns.

Poor quality fuel filters that can perish and allow debris to again restrict injector filter baskets. Generally, a 25% restriction of the filter basket can cause an increase of 25% injector duration by the ECM to compensate.
Incorrect length filter baskets fitted to fuel injectors may inhibit injector operation and cause low fuel supply. (the correct service components must be used)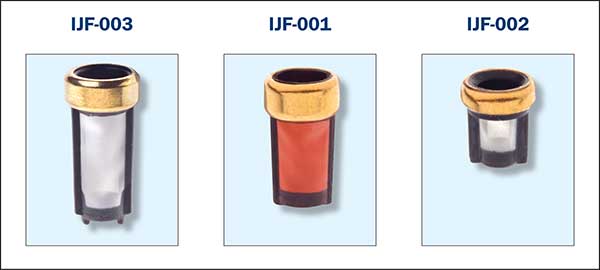 Note: In most cases, excessive rust scaling inside the injector generally results in replacement and not servicing injectors. An injector that jams in an open condition due to rust particles may cause extreme engine failure. The injector has a manufacturing tolerance of 1 micron which is one of the finest tolerances on any mechanical component.
General causes of blocked / restricted / dirty injectors.
The fuel is a mixture of different hydrocarbons that include "heavy waxy olefins". When the engine is switched OFF, any remaining fuel on the injector nozzle evaporates leaving the waxy olefins which harden and create varnish due to the baking heat. Over time this varnish builds up and causes the restriction of fuel flow and inconsistent spray pattern.
This may affect different brand injectors with pintle types or multi hole types in different ways.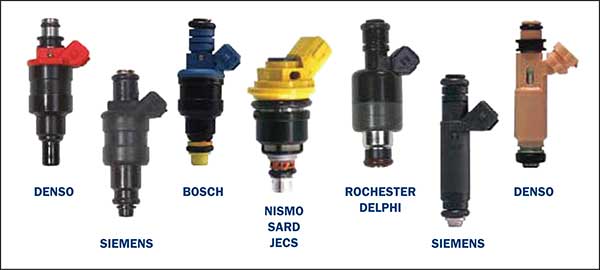 Note: Tank additive injector cleaners are not effective for baked on gum/varnish. They are generally a preventative only and may cause fuel system component damage if over used.
Removal of injectors for servicing and post service testing is the preferred procedure. Ultrasonic cleaning with a suitable fluid ensures all wax/gum is removed from affected areas. On vehicle injector cleaning will result in improved driveability but will not result in complete servicing as the filter baskets cannot be inspected for sediment build up.
Can all Injectors be serviced?
The simple answer is NO but you need to determine which system is utilised by the vehicle and suspected fault prior to consulting customer.
K and KE Mechanical injectors. - Fuel pressure controlled and continuous spray. NOT fully serviceable and generally a replacement item. Reasons:

Filter basket located internally and not accessible
Pintle area wears and results in dribbling
Internal spring force alters over time causing inconsistent operation.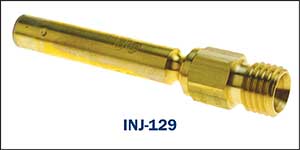 Injectors with faulty internal windings. (NOT repairable)
Injectors with weak or broken pintle return spring. (NOT repairable)
Injector with leaking body. (NOT repairable)
Note: Many direct injection type injectors may be serviced and tested, but require specific test equipment due to high operating voltages and pressures. Specific Teflon seals are also required with specific fitting procedures.
Quality of Injector Service Kits make a difference on general fuel injectors.
O-ring deterioration and failure can cause either a fuel leak on the fuel rail connection or an intake vacuum leak on the intake manifold. Viton seals help to prevent this condition and are recommended.
Quality Pintle caps can prevent fractures and breakages due to heat which may result in small plastic particles entering the cylinder.
Correct fitting buffer seals prevent injector movement and dirt entering the sealing area.
For injectors utilising filter baskets, it is important to fit the correct length filter to ensure correct fuel flow is achieved.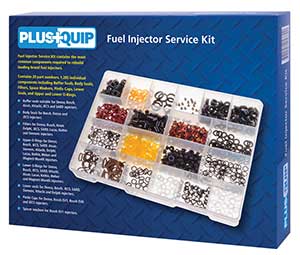 The PlusQuip IJK-001 Fuel Injector Service Kit contains 1285 individual components; covering 20 part-numbers, and includes;
Buffer seals suitable for Denso, Bosch, Aisan, Hitachi, JECS, SARD injectors.
Body Seals for Bosch, Denso and JECS injectors.
Filters for Denso, Bosch, Aisan, JECS, SARD, Lucas, Keihin and Siemens injectors
Upper O-Rings for Denso, Bosch, JECS, SARD, Aisan, Siemens, Hitachi, Delphi, Lucas, Keihin, Weber and Magneti Marelli injectors
Lower O-Rings for Denso, Bosch, JECS, SARD, Hitachi, Aisan, Lucas, Keihin, Weber and Magneti Marelli injectors
Lower seals for Denso, Bosch, JECS, SARD, Siemens, Hitachi and Delphi injectors Pintle Caps for Denso, Bosch EV1, Bosch EV6 and JECS, injectors Space washers for Bosch EV1 injectors
Pintle Caps for Denso, Bosch EV1, Bosch EV6 and JECS, injectors
Space washers for Bosch EV1 injectors.
To see more information on the PlusQuip IJK-001 Fuel Injector Service Kit click here. A full range of refill components are also available to replenish the kit as required.
The PlusQuip Fuel Injector Service Kit and refill components, as well as specific Fuel Injector Service Kits, are available from specialised resellers and leading automotive retailers.
The Premier Auto Trade Fuel range has over 160 Injector service components including service kits for nearly 300,000 vehicle applications in Australia and NZ, and individual service components to suit many more.
When you supply and fit products from Premier Auto Trade you can expect a product designed and tested to the vehicle manufacturer's specifications offering OE form, fit and function.