Latest News
Speed Sensors (SPS)
What Technicians need to know when diagnosing, testing and replacing speed sensors on vehicles.
These speed sensors may be used for monitoring multiple rotating components, depending on the amount of electronic and non-electronic control systems fitted to the vehicle.
Typically, a fault in a speed sensor may affect one or more of the following automotive systems:
Speedometer operation that may cause major engine management issues – if applicable.
Transmission issues with shift points and quality.
ABS /Traction control and Stability Control/ Hill descent system issues – if fitted.
Power Steering issues.
Cruise Control issues/prevention.
Idle stop / start system prevention.
Any sensor that influences so many automotive systems needs to urgent attention if suspected of being faulty.
Locating the suspect speed sensor is the first task for the technician as it may be located in a variety of places depending on make and model.
Typically:
Transmission Input Speed. Transmission ECM monitors difference to engine RPM due to torque converter slip.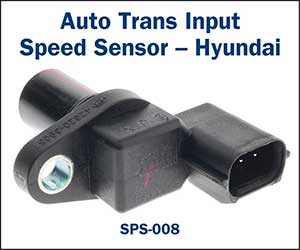 Transmission Output Speed. Transmission ECM monitors difference between input and output speeds during and after shift points.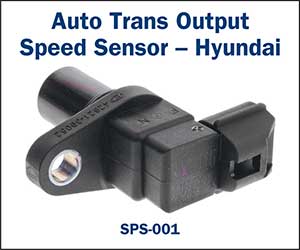 Some Subaru models utilise three speed sensors on the transmission assembly to transmit speed signals to the TCM (Trans Control Module). The TCM processes these signals and outputs a signal that is used to drive the instruments and forward the road speed to the engine ECU.
Note: A stand-alone speedometer drive sensor unit may be driven by the output shaft of a manual or automatic transmission on some vehicles. This may mainly affect the speedometer operation.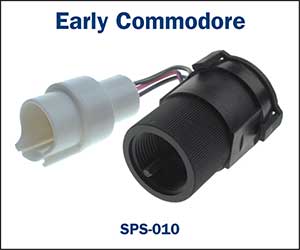 Axle / Wheel Speed. Many later vehicles utilise the ABS wheel speed sensor as a multi utilised vehicle speed sensor for other systems. For more information on this type of speed sensor, please refer to Wheel Speed Sensor article.
Speedometer Cable Rotation. A reed switch that will open and close circuit by a rotating magnet – driven by the speedometer cable.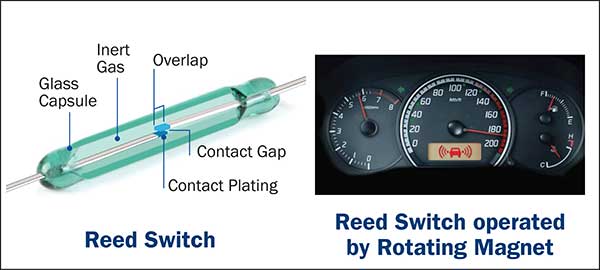 Note: This type of reed switch sensor operated by a rotating magnet may also be located in a transmission mounted unit where the magnet is driven by the output shaft.
Once the location of the sensor has been determined, the technician must identify the operating principal for the specific speed sensor. It may be one of the following types:
Analogue Signal Type Sensor. (Generally, on older vehicles)
The analogue type sensor is generally a magnetic variable reluctance type, incorporating a wire wrapped permanent magnet that induces a waveform output voltage when the toothed ring rotates (when the vehicle moves) and interrupts the magnetic field. The output signal alters in frequency as the output speed increases and decreases.
A suitable oscilloscope can quickly test the output signal quality if the sensor is suspect and is the preferred method. An Ohm meter can be used to check the resistance of the internal windings for short and open circuit. A voltmeter can indicate if a signal is present but not the most accurate test procedure for this sensor.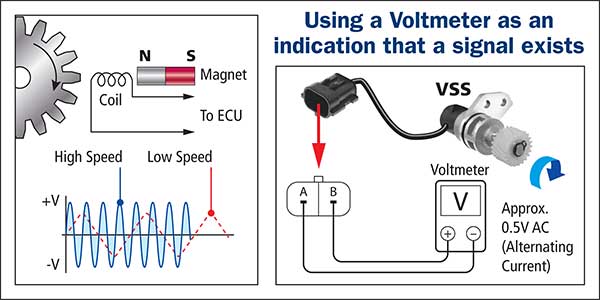 Digital Signal Type Sensor. (Most common type)
This digital sensor is generally known in the trade as a HALL type sensor. It generally requires 3 terminals to function but many hall type ABS wheel speed sensors (active types) only require 2 terminals due to new design and operational changes. It is important to ensure that the voltage supply to the HALL type sensors are correct as the output will be seriously affected.
Testing the Digital type sensor may be carried out directly at the sensor with a suitable oscilloscope or may be monitored utilising a suitable scanner with the related drive wheels raised and rotating.
Note: It is important to ensure that the related wiring and control units are operating correctly as any part of the circuitry may cause major systems malfunctions.
The Premier Auto Trade Sensor range includes almost 30 Speed Sensors (SPS) from the world's leading manufacturers, covering almost 5 million vehicle applications in Australia and NZ.
When you supply and fit products from Premier Auto Trade you can expect a product designed and tested to the vehicle manufacturer's specifications offering OE form, fit and function. Premier Auto Trade distributes products throughout Australia via a network of specialised resellers and leading automotive groups.