Latest News
Exhaust Gas Recirculation Valves (EGR)
What the Technician needs to know about testing a variety of EGR valves.
When an EGR is fitted to a petrol or Diesel engine, we know that its main purpose is to limit the harmful and unwanted Oxides of Nitrogen (NOx) emissions that are produced due to high combustion temperatures in both types of engines.
The EGR system is a method that has been used for a while and is still currently used to assist the vehicle manufacturers to build engines that pass strict Government enforced regulations.
Typical EGR effect on Petrol and Diesel Engines

Testing a variety of EGR valve types.
There are a few important issues we need to clarify prior to carrying out any testing of the EGR components or circuits.
Petrol and Diesel engines vary in the period that the EGR valves open and close.

Typical General Operation

Petrol - Above idle and up to upper - Part load
Diesel - Up to 3000 RPM and medium - load
The ECU controls the opening and closing of the vacuum operated and electronic type EGR valves.
The build-up of carbon internally is generally the main cause of EGR valve malfunction.
Low flow EGR fault codes may be logged when the EGR cooler system flow is restricted by internal carbon build up.
EGR valve position sensors may or may not be integrated in the valve itself.
EGR valve position sensors may or may not be supplied/replaced separately from the EGR valve itself.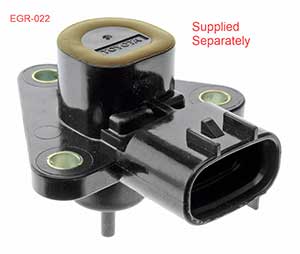 The Throttle valve on a CRD engine controls the EGR intake in conjunction with the Diesel ECU. (to create intake manifold vacuum)
The Air Mass Meter on a CRD monitors EGR valve opening and closing and is use full in diagnosing EGR operation on the vehicle.
Test equipment is available to test the on car or off car operation of most EGR valves.
There may be more than one EGR valve fitted to current vehicles. (Conventional High Flow EGR valve and possibly Low Flow EGR valve located on the exhaust pipe.)
Special test equipment that can test off-car is the PlusQuip EQP-115 Electronic EGR / Throttle Body and Actuator Tester. Refer to more information here
or a demonstration video here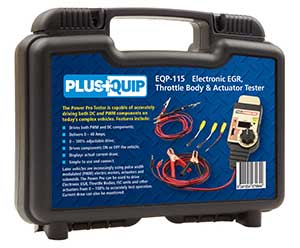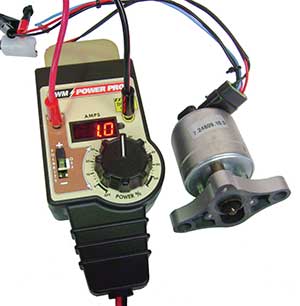 Testing procedures for vacuum and electronic type EGR valve units
A defective component in the EGR system may have a very detrimental effect to the engine performance and therefore the emissions. Strict emission laws and the malfunction indicator light generally illuminated when a system fault exists, require a prompt resolution.
1. Pneumatic EGR Valve System Component Tests
Note that vacuum supply to all components must be tested on the vehicle to eliminate misdiagnosis
Single diaphragm type EGR valve
Using a manual vacuum hand pump can verify movement of the valve and the condition of the diaphragm. This can be performed on or off the vehicle. Dual diaphragm types will vary in test procedure.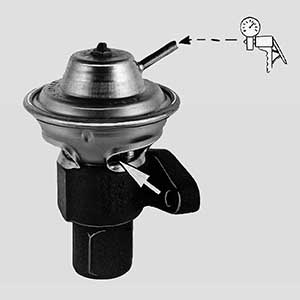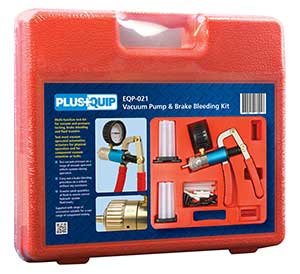 EGR Valve with potentiometer feedback
Potentiometer resistance can be checked with the harness disconnected. Voltage test is preferred with the harness connected using a suitable scanner / scope or Multimeter.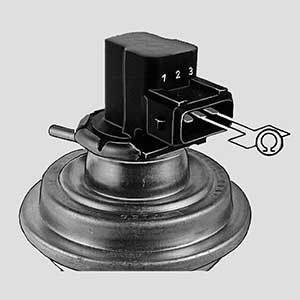 Electro-Pneumatic Vacuum pump valve
Using the vacuum pump can verify if the valve is sealed or leaking when not activated and if the valve opens when the solenoid is activated. Solenoid resistance can also be tested with an ohm meter.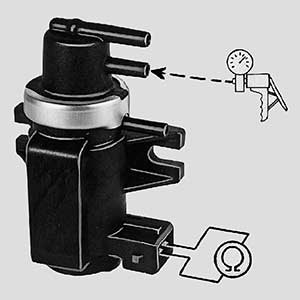 Vacuum switch for EGR valve.
Thermo Valve
Using the vacuum pump can verify if the valve is closed when cold and heating the unit with a heat gun should result in the valve opening above approximately 70 degrees Celsius.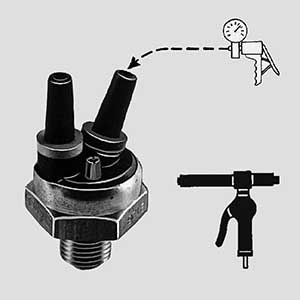 2. Electric EGR Valve Test
The combination EGR valve and feedback system in this unit is controlled and monitored by the ECM and requires no external vacuum source to operate.

Note: This is a typical vehicle pin out configuration, but this can vary for different vehicle models. Always refer to correct wiring diagram.
The EQP-115 tester is connected to the 2 outer terminals of this EGR valve. Altering the pulse width signal allows the valve to open and close as requested whilst current draw is monitored for accurate assessment. The position sensor is tested separately but must be tested during an open / close cycle.
Electric EGR Valves with Cooler Modules
For further reduction of combustion temperatures and further control of emissions.
Ensure cooler is not restricted internally. Coolant leakage both internal and externally may become problematic and must be checked.
DC Motor EGR Valve with Hall Sensor Response
Current units fitted for increased opening force and quicker response time - diesel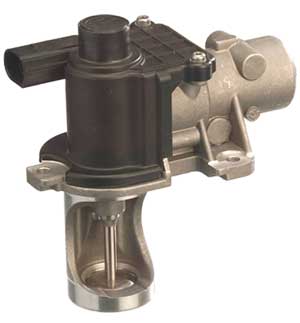 The Hall type position sensor varies in test procedure to the analogue type. Gear damage may become problematic on this unit due to excessive internal torque created by carbon build up.
Note: A suitable scanner can also be used to test the electric EGR valve circuits by utilising the scanner program to activate the motor and monitoring the feedback signal (position sensor).
On later vehicles, renewing the EGR valve requires relearning by using program options in the scanner. That is the electric EGR valve must be adapted to the ECU.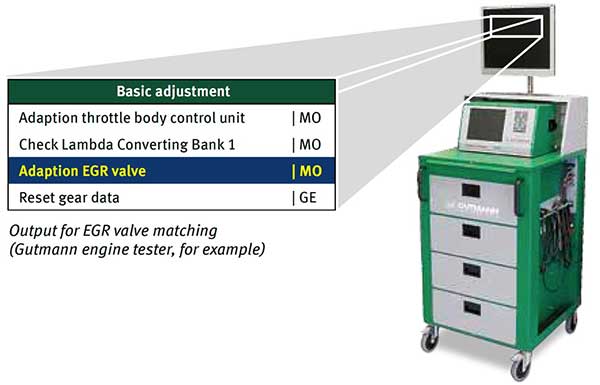 The Premier Auto Trade Emission range includes more than 100 Exhaust Gas Recirculation Valves, covering over 3.8 million vehicle applications in Australia and NZ.
When you supply and fit products from Premier Auto Trade you can expect a product designed and tested to the vehicle manufacturer's specifications offering OE form, fit and function. Premier Auto Trade distributes products throughout Australia via a network of specialised resellers and leading automotive groups.