Latest News
Fuel System Accessories (FSA)
Handy facts and tips for technicians when working on a variety of automotive fuel systems.
Tip 1:
When an in-tank fuel pump assembly (fuel module) has been diagnosed as faulty and needs to be renewed, generally the first step in the process is to access the new assembly prior to removing the old one from the tank. (As mentioned in previous articles, removing the fuel module from a plastic tank and leaving it exposed for long periods may cause the tank to warp and result in a difficult process of fitting and sealing the new assembly).
When a new assembly has been ordered, the technician needs to ensure a new seal is supplied with the new unit. Most replacement fuel modules incorporate a new seal, but this is not always the case. Replacing an in-tank fuel pump only in the original assembly, also requires the purchase and replacement of the tank seal.
Typical fuel tank seals.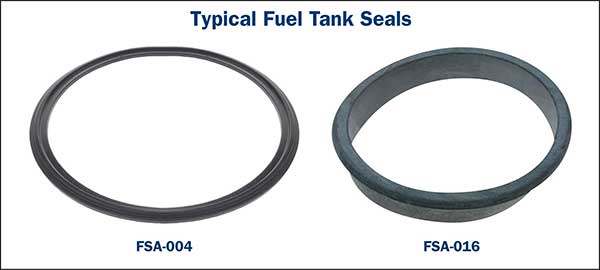 Tip 2:
Typical fuel "draining back" to the fuel tank from the fuel lines after the engine has been turned off, generally is the cause of a faulty or missing one-way check valve in the fuel pump or in the fuel circuit that can cause a similar result. This loss of residual pressure and fuel quantity generally results in excessive cranking time prior to engine starting, generally after prolonged rest time between engine starts or first engine start overnight. This refers to both EFI and carburetted fuel systems. Fitting a supplementary electric fuel pump on a carburettor mechanical fuel pump system will generally require fitment of these one-way check valves.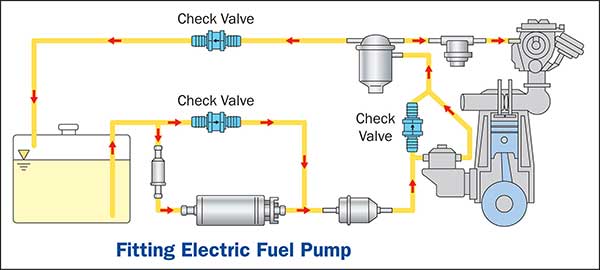 Application example: Carburettor engine with connectible supplementary electrical pump
There may be conditions where fitting separate standalone one-way check valves is the only or easiest option available for the technician to rectify the problem. These check valves generally fit in the fuel line as close as possible to the fuel tank and come in a variety of fuel line fitting diameters.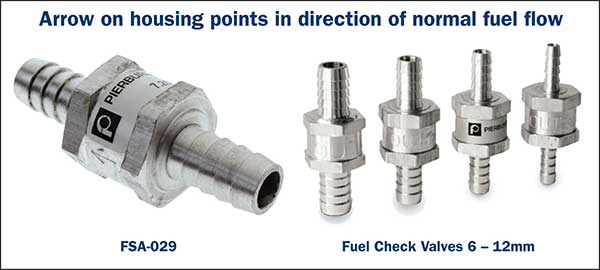 Typical one-way fuel check valve.
Tip 3:
A fuel pump that is mounted externally from the fuel tank can become problematic on aged vehicles with the build-up of foreign particles over time in the fuel tank and deteriorating fuel hoses entering the pump intake and causing the pump to reduce speed or seize totally.
Fitting a pre filter "prior to the fuel pump intake" can assist in preventing these particles entering the fuel pump and causing premature fuel pump conditions that may result in necessary pump replacement.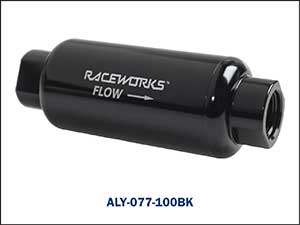 Typical Pre-Filter fitted in series with the fuel pump.
Tip 4:
A damaged/ leaking plastic or metal fuel line or related connector fitting can present some challenges for technicians when determining the suitable repair procedures. In many cases expensive fuel line replacement or unavailability of specific fuel lines or components can cause vehicle repair delays due to prolonged communications with the vehicle owner (customer).
The FSA-007 Fuel Line Repair Kit includes professional quality components to quickly carry out multiple repairs on most fuel line systems that can quickly result in a solution to the problem. Metal, plastic and rubber fuel line cutting tools are supplied in the kit.
Fabricating a new fuel line system for performance modifications can generally be carried out with more flexibility as metal fuel lines are able to be connected to plastic or rubber fuel lines without great difficulty using specific fittings from this kit. This includes ethanol fuels.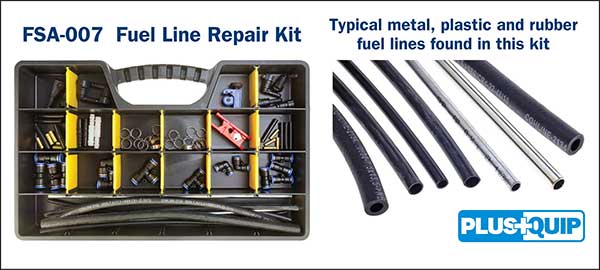 Note: individual components are available to restock the kit.
More information on the PlusQuip FSA-007
The Premier Auto Trade range includes hundreds of Fuel System Accessories and tools, suitable for the maintenance, testing, repairing and replacing of automotive components. The range includes parts and products for the professional technician involved in the maintenance, diagnosis and service of vehicles and engine systems.
When you supply and fit products from Premier Auto Trade you can expect a product designed and tested to the vehicle manufacturer's specifications offering OE form, fit and function. Premier Auto Trade distributes products throughout Australia via a network of specialised resellers and leading automotive groups.