Latest News
DENSO Spark Plugs
What Technicians need to know about the characteristics of the DENSO Iridium Spark Plug range for both standard and performance applications.
Why Iridium?
Iridium Alloy is SIX times harder and eight times stronger than conventional Platinum. This allows for the reduced diameters of the centre electrode which results in improved combustion under most conditions.
Varieties of Iridium Spark Plugs and their Features.
IRIDIUM POWER
| | |
| --- | --- |
| Typical replacement Range: | Approx. 20,000km (Similar to Nickel). |
| Construction: | Fine Iridium Centre Electrode with tapered cut "Nickel Ground" Electrode. |
| Why this type of design? | Achieves a concentrated stronger spark. |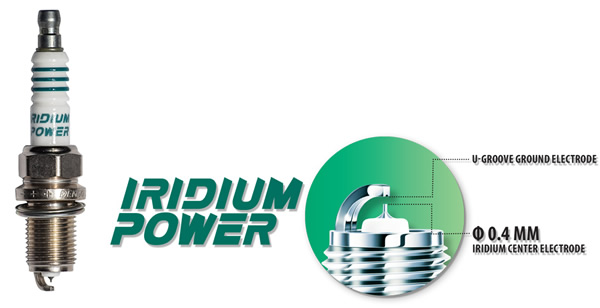 IRIDIUM TOUGH
| | |
| --- | --- |
| Typical replacement Range: | Approx. 100,000km |
| Construction: | Fine Iridium Centre Electrode "Platinum Pad" Ground Electrode. |
| Why this type of design? | Achieves a concentrated stronger spark and an improved serviceable life. (Approx. 5 times stronger than Nickel). |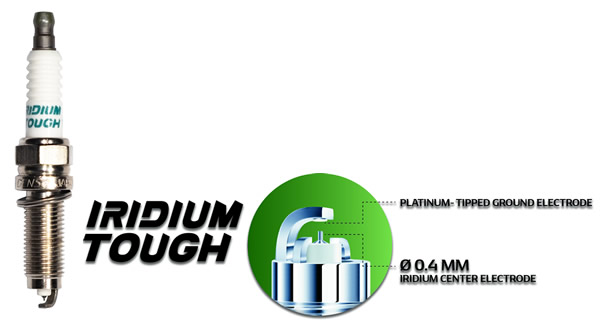 IRIDIUM TT
Typical replacement Range:
Approx. 100,000km
Construction:
Fine Iridium Tip (0.4mm).
Centre electrode with a fine Platinum ground Electrode tip (0.7mm)
Why this type of design?
This allows for the strongest spark concentration for improved combustion and performance over the longest service life.
Features of the Iridium Twin Tip Spark Plug.
The 0.4mm Iridium centre electrode and the 0.7mm ground electrode creates a more effective and improved combustion due to the reduced obstruction to the spark and minimising the quenching effect. (less interference to spark growth). The improved combustion results in more power, better fuel economy and reduced emissions.
What effect does the 0.4mm Centre Electrode have on the Ignition / Combustion system?
This design results in a "Low" required voltage for high ignitability.
The reduced demand from the ignition coil results in reduced misfire events that would generally create reduced power, increased emissions and in some cases engine management component damage if backfiring occurs.

THAT IS!

The required voltage in the Iridium Power Plugs, in between 3 and 5kW less than conventional spark plugs, are well suited for High performance engines and for high response driving.
Iridium Spark Plugs for Tuned or Modified Vehicles.
With a variety of engine performance modifications possibilities available it is important to ensure that the correct spark plug "Heat Range" is utilised to suit the relevant modifications. Generally, the spark plug heat range is increased when the tuning level rises.
This will assist in reducing carbon fouling, oil fouling and pre ignition. Any one of these may cause or result in mechanical damage to the engine.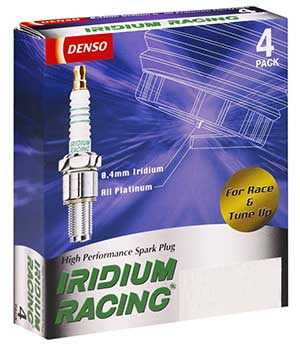 Iridium Spark Plugs
The Iridium Racing plugs again require a suitable "Heat Range" to suit the engine modifications and driving conditions.
Generally, a spark plug that protrudes into the combustion chamber has superior ignition performance but will be greater exposed to high temperature elements and with increased length of the grounding electrode, will result in reducing the heat resistance and durability.
If you want more information on DENSO Iridium Spark Plugs, then check out this video
The Premier Auto Trade Ignition range includes high quality DENSO Spark Plugs. DENSO is a prominent OE Supplier, with up to 30% of new vehicles in Australia fitted with DENSO Plugs. The DENSO range also means less plugs for more cars, with up to 90% less stock needed than some other spark plug manufacturers.
When you supply and fit products from Premier Auto Trade you can expect a product designed and tested to the vehicle manufacturer's specifications offering OE form, fit and function. Premier Auto Trade distributes products throughout Australia via a network of specialised resellers and leading automotive groups.