Latest News
Water Temperature Sensors (WTS)
What Technicians need to know about water temperature sensors (WTS) and their related wiring circuits that are used to operate the coolant temperature display gauge and possibly the high temperature warning light (if fitted) when this monitoring system fails.
Earlier vehicles utilised either a coolant temperature indicator gauge unit that monitors the engine coolant temperature or an engine overheat warning light that would illuminate to warn the driver of a potential cooling system fault that would result in an engine overheating condition.
Many vehicles utilised both these monitoring systems combined to ensure the driver is aware of any potential excessive heating condition prior to any potential major engine failure.
Gauge only monitoring
The sensor is used to operate the gauge as the coolant temperature alters.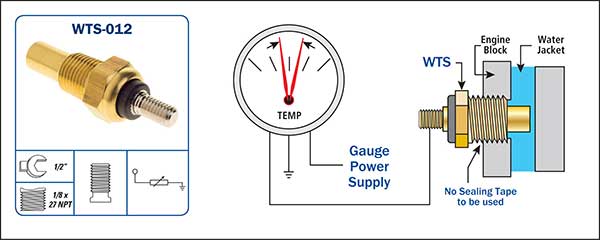 Warning light only monitoring
The WTS contacts close at a set temperature to operate the warning light. The switch body is used as a ground when the contacts close.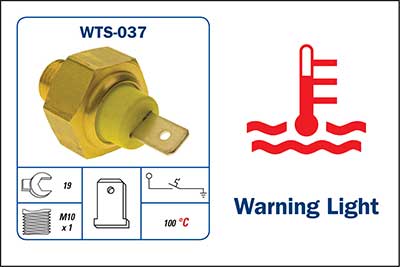 Combined Gauge and warning light monitoring
May be a 2, 3 or 4 terminal unit. Warning light switch may be activated at slightly different temperatures as shown on the 4 terminal sensors below.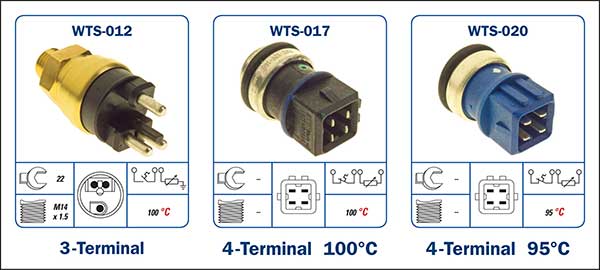 Typical 2 terminal gauge and warning light circuit.
Testing WTS units (using a multimeter)
Testing procedure will vary depending on whether the unit is a switch or resistor type.
The switch will be a simple on /off test when the test fluid reaches the activation temperature.
The resistance on a variable resistor type circuit will of course alter as the test fluid is heated.
The Premier Auto Trade Sensor range includes over 60 Water Temperature Sensors (WTS) from the world's leading manufacturers, covering almost 4 million vehicle applications in Australia and NZ.
When you supply and fit products from Premier Auto Trade you can expect a product designed and tested to the vehicle manufacturer's specifications offering OE form, fit and function. Premier Auto Trade distributes products throughout Australia via a network of specialised resellers and leading automotive groups.