Latest News
Fuel Rail Sensors (FRS)
What a technician needs to know about diagnosing / testing and replacing the fuel rail pressure sensor on a Common Rail Diesel and Direct Injection petrol engine.
Typical Location for FRS: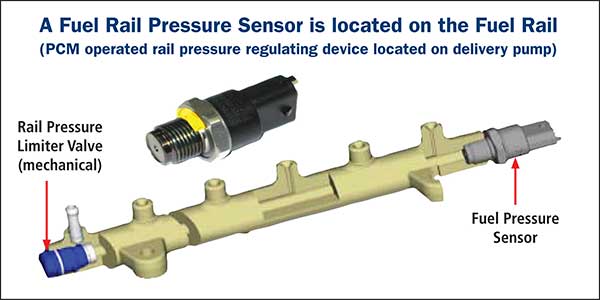 Note: The above Image indicates that the sensor is located at one end of the CRD fuel rail. Some earlier and later CRD systems utilise a PCM controlled pressure regulating device at the other end of the fuel rail.
Due to the variety of CRD fuel rail systems.
It is important to identify the correct device prior to any testing procedures. (FRS connector generally has 3 terminals).
(CRD) Sensor function.
The FRS is generally a piezo resistive type sensor that monitors the fuel pressure in the fuel rail as a varying voltage, which is utilised by the PCM as part of the calculation for the % duty cycle control for the Rail Pressure Control Solenoid (or Fuel Metering Solenoid or Suction Control Valve) to maintain a suitable rail pressure under all driving conditions. (current CRD systems now reach max pressures over 200MPa).
Sensor Operation:
The PCM supplies a stabilised 5 Volt supply to the signal wire of the sensor. A constant 5 V supply and a ground completes the pin out.
The resistive value of the sensor creates a change in voltage at the signal wire in accordance with the change in fuel rail pressure.
Typical CRD expected voltages:
Example Bosch EDC 16 system.
Typical signal voltages from rail pressure sensor:
Engine stationary: approximately 0.5 volts.
Engine idling: approximately 1.32 volts.
Snap acceleration: approximately 3.77 volts +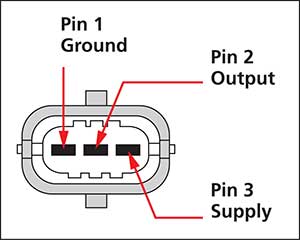 Effects of incorrect fuel rail pressure or a faulty CRD Fuel Rail Pressure Sensor on a vehicle:
Warning light illuminated.
An Incorrect fuel pressure signal for the driving condition will trigger the warning light and generally log fault codes.
Note: there may be multiple causes of an incorrect fuel pressure signal and the task for a technician is to determine if it is a pressure problem created by the fuel supply and regulating system or caused by a sensor fault.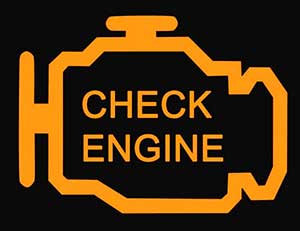 Delayed or difficult starting engine.
Without accurate rail pressure signals the PCM cannot control the rail pressure as required and one result is starting difficulties.
During acceleration the rail pressure should rapidly increase to ensure correct fuel amounts are delivered by the injectors. Unfortunately, with incorrect rail pressure monitoring, this pressure increase may not occur.
This may occur due to rail pressure fluctuations or insufficient or extreme pressures for the driving conditions.
Rail pressure inconsistencies will cause incorrect mixtures and cause varying increases in fuel use. This will cause extreme variations in emission levels.
Caution: If the FRS is to be renewed, it is important to adhere to "all relevant safety procedures" as the fuel rail pressure may be extreme.
Error Codes:
Two common error codes relating to Fuel Rail Sensors on a CRD that may be logged are:
P0193 – Fuel Rail Sensor circuit high input. The PCM has detected that the fuel pressure is not within the predetermined range.
P0087 – Fuel Rail Pressure too low. Generally, a problem with the fuel delivery system that causes the pressure to be too low.
Even though the GDI (Gasoline Direct Injection) rail pressures vary to the CRD systems, the function of the rail pressure sensor is similar.
Typical Rail pressures for a GDI system may be:
From 500psi (3450KPa) @ Idle to approx. 3000psi (20,700KPa) at high engine load.
The Premier Auto Trade Sensors range includes Fuel Rail Sensors (FRS) from the world's leading manufacturers, covering almost 200,000 vehicle applications in Australia and NZ.
When you supply and fit products from Premier Auto Trade you can expect a product designed and tested to the vehicle manufacturer's specifications offering OE form, fit and function. Premier Auto Trade distributes products throughout Australia via a network of specialised resellers and leading automotive groups.