Latest News
Coolant Temperature Sensors (CTS)
What technicians need to know when diagnosing and testing coolant sensors or related circuit faults.
The common engine coolant temperature sensor, being a simple but very important PCM input signal, may have variations that a technician needs to be aware of that can save diagnostic time and may prevent unnecessary CTS replacement.
A standard two terminal NTC coolant sensor is generally located near the thermostat area to monitor changing coolant temperatures to assist the PCM in controlling fuel mixtures, Ignition control, emission system operation and multiple other systems that are temperature related.
Typical NTC Thermistor - 2 terminal CTS units

These CTS units are generally connected in a simple electrical circuit with the output signal easily tested or monitored by a suitable scanner in either an output voltage or engine temperature reading.
Note: there is no electrical conductivity between any terminal and the sensor outer housing on this type of sensor.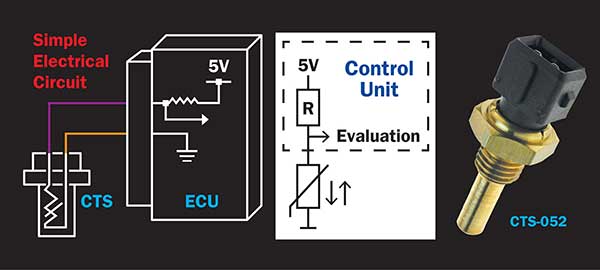 Testing with a multi meter is common for testing:
Reference voltage supply (5V)
Earth / Ground suitability. (important to test for a good ground circuit)
General Output voltage.
Resistance reading across the CTS terminals.
Intermittent coolant sensor faults require a scanner for live data monitoring or snapshot sequence to investigate results after the fault has occurred.
Note: typical common vehicle engine system malfunctions may be:
Higher than normal idle speed.
Increased fuel consumption.
Poor starting behaviour
Intermittent stalling
Possible engine cooling fan inoperative or continuously on.
Two stage Engine Coolant Sensor
The Commodore Delco system utilises separate internal PCM coolant resistor circuits to increase the resolution of the CTS signal.
Below 51 Deg C coolant temperatures, both resistor circuits are utilised (4348 Ohms) in the PCM resulting in a voltage reading of 3.5V at 0 Deg C and reducing to a voltage (as the engine temperature increases) to 1.0V at 50 Deg C.

Above 51 Deg C coolant temperatures, the PCM transfers to the 348 Ohm coolant sensor circuit in the PCM resulting in a voltage reading of 3.5V at 51 Deg C and reducing to 1.0V at 110 Deg C.

Typical approximate resistance readings for this (CTS-016) coolant sensor:
Also expected voltages with key ON or engine running.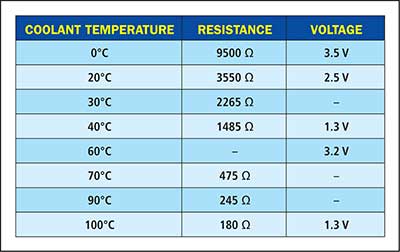 Dual circuit CTS
The CTS circuit on some earlier Volvo vehicles may cause confusion when carrying out circuit tests. On this CTS sensor type, the housing is utilised as a ground that is used by the internal engine cooling temp circuit as well as the separate circuit for the Ignition control module.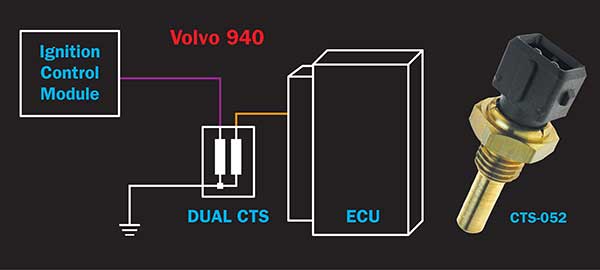 For testing this type only CTS "or" prior to fitting a new one, use an Ohm meter probe from the CTS housing to any one of the two CTS terminals that should indicate a resistance (circuit). Note: No circuit should exist on conventional type coolant sensors.
Ford type Cylinder Head Temperature Sensor.
This sensor is located at the rear of the cylinder head and does not come in contact with the coolant. The resistance like any other CTS will alter with temperature and like the Delco system on the Commodore, the PCM utilises a 2-stage internal resistor network that switches at approx. 60 Deg C.
Typical voltage and resistance readings for this Cylinder Head Temp Sensor:

Combination CTS and temperature gauge sender
A CTS that utilises more than 2 terminals, generally incorporates a dash gauge or warning light sender integrated in the sensor.
This may include either 3 terminals or 4 terminal CTS units. 2 terminals are used for the CTS circuit. The other terminals may lead direct to the vehicle instruments or to the Engine ECU.

Other systems.
Some BMW vehicles (e.g. BMW X3) utilise an extra coolant temperature sensor located at the radiator outlet to monitor the temperature of the coolant as it leaves the radiator. This information is used by the ECU to determine when the electric cooling fan is activated. The DME uses other inputs as well to control cooling fan operation and speed.
Typically: Coolant temperature at the cylinder head from the conventional CTS as well as the signal from the AC operation.
Note: if the outlet temperature sensor fails, a code will generally be logged, and it is important for the technician to test the correct sensor when diagnosing these faults.
The Premier Auto Trade Sensor range includes almost 150 Coolant Temperature Sensors (CTS) from the world's leading manufacturers, covering over 15 million vehicle applications in Australia and NZ.
When you supply and fit products from Premier Auto Trade you can expect a product designed and tested to the vehicle manufacturer's specifications offering OE form, fit and function. Premier Auto Trade distributes products throughout Australia via a network of specialised resellers and leading automotive groups.