Latest News
HALL Sensors and Pickups (HAL)
What the technician needs to know about diagnosing and testing HALL Sensors and Pickup Coils located in the Ignition distributor of a vehicle.
Note: HALL Sensors in general.
HALL sensors are widely used to monitor rotations and movement of components on many operating and management systems of the modern vehicle. HALL sensors may produce one of three output signals depending on system requirements.
Square wave signal with varying frequency as rotating shaft speed increases or decreases. Commonly utilised for rotating component signals such as Crank Angle Sensors located inside or external of the distributor or similar rotating application.

Square wave Pulsed Width Modulation (PWM) signal generally utilised on sensors with limited movement such as Throttle Position Sensors (TPS) and similar.

Analogue output signal generally utilised on sensors with limited movement such as Throttle Position Sensors (TPS) and similar.
Ignition Distributor HALL sensors. (Varying frequency Digital signal type)
One of the more common areas for its application on vehicles fitted with Ignition Distributors is to monitor the Ignition distributor shaft rotation and the shaft position in relation to the crank shaft.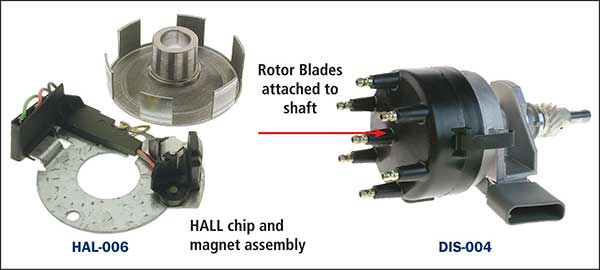 This is required by the Engine ECU to assist in Ignition and fuel control.
Typically, there are three wires required in the circuit for correct HALL sensor operation.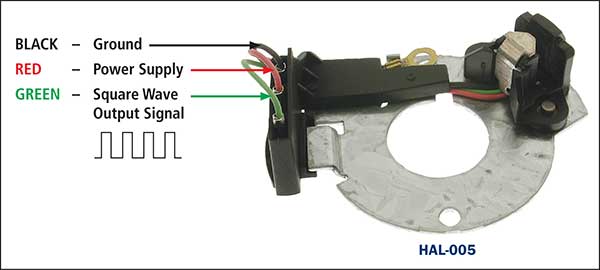 The HALL signal may be used directly by the Ignition Module as a trigger to switch the Ignition coil on and off or by the ECU to control ignition coil operation via a power transistor. Either way, the HALL output signal does not alter and is tested similarly.
Typical Oscilloscope signal taken at distributor at constant rotational speed.
This is the preferred testing method for a square wave signal. (Multi meters are not utilised for this test.)
Resistance readings for this type of sensor are not applicable.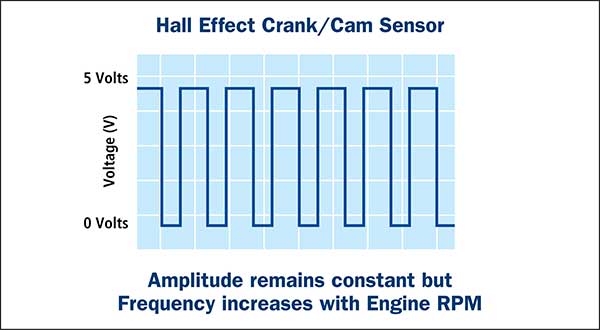 Dual HALL Sensors located in Distributor.
Some vehicles utilise two HALL sensors inside the distributor to monitor the shaft speed for the ECU as performed by a typical Crank Angle Sensor (CAS) and also to monitor the TDC position for cylinder number one as performed by a typical Cam Angle Sensor.
Typical 5 Litre VT Commodore Distributor HALL Sensor.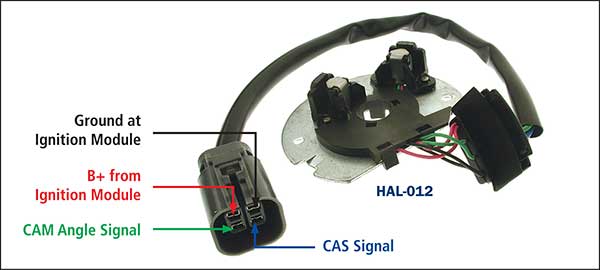 A fault in the HALL sensor "circuit" generally results in a nil or intermittent output signal which generally causes a difficult or no start condition. The Power supplies and ground suitability must be checked prior to any thought of replacing the HALL sensor.
In many cases, it may be financially viable (for cost or time saving) to renew the complete distributor rather than replacing the HALL sensor on its own. The condition of the distributor should guide the Technician on the path to follow.
Ignition Distributor Pickup Coil Sensors. (Inductive Type)
Many earlier distributors utilised the inductive type pickup coil sensor instead of a HALL sensor as a trigger for the Ignition Module or ECU to control the Ignition coil operation. Generally, the ignition module will not function if it receives an incorrect type signal, so it is important to match the module to the type of trigger signal required.
Many Distributors have multiple pickup coils for Crank and Cam RPM monitoring and also cylinder position monitoring depending on the engine management system utilised.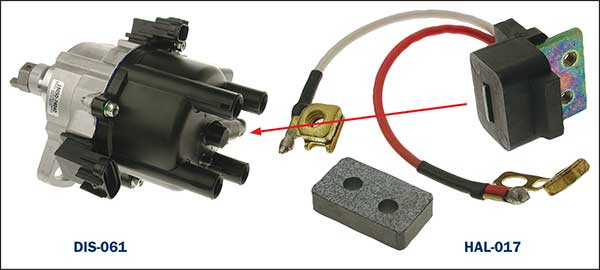 Testing the inductive type signal again requires a suitable oscilloscope but there are necessary conditions prior to any testing.
Ensure the air gap between the reluctor and the reluctor wheel is correct as this affects the output Signal strength.
Ensure the coil windings resistance readings is acceptable. (refer manufacturers specs as they vary dramatically)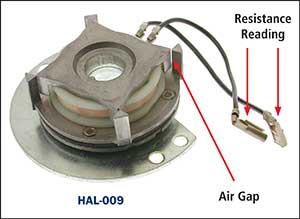 Ensure shaft rotation is true to ensure even output signals.
Ensure the magnet strength is acceptable.
Note the difference in amplitude on the captured screen below of typical pickup coil signals.
The lower amplitude relates to a greater air gap creating a weaker signal.
Beware of insufficient air gap that can cause physical mechanical damage.
Excessive differences in amplitude may cause misfiring and or hard starting.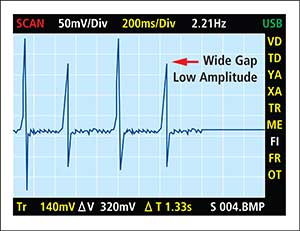 Note: The inductive coil windings are polarity sensitive. The two wires must be connected to the correct terminals to ensure the module controls correct ignition coil spark timing. Incorrect polarity would result in the ignition coil spark being excessively advanced or retarded.
The Premier Auto Trade Sensors range includes almost 40 HALL Sensors from the world's leading manufacturers, covering almost 200,000 vehicle applications in Australia and NZ.
When you supply and fit products from Premier Auto Trade you can expect a product designed and tested to the vehicle manufacturer's specifications offering OE form, fit and function. Premier Auto Trade distributes products throughout Australia via a network of specialised resellers and leading automotive groups.