Latest News
Oil Temperature Sensors (OTS)
What technicians need to know when diagnosing and testing oil temperature sensors on a vehicle.
The OTS may be utilised by many petrol and diesel vehicles as a "stand-alone" sensor or may be Integrated as part of the "oil level sensor" assembly. Generally, the petrol and Diesel engines may use the OTS signal to assist the ECU in performing varying system control and protective functions.
Note: in some cases, a combined – "Oil Pressure and Temperature" sensor may be used on some vehicles.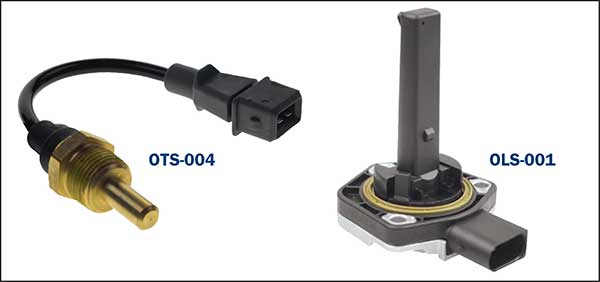 | | |
| --- | --- |
| A Typical "stand - alone" Oil Temp Sensor | A Typical integrated OTS and Oil level Sensor |
A Typical OTS sensor function for petrol engine:
Hyundai petrol engine with CVVT (Variable Valve Timing)
Utilised to monitor the engine oil temperature for a more accurate CVVT operation.
May be known as a CVVT Oil Temp Sensor for this make of vehicle.
Typical Temperature to Resistance relationship for Hyundai OTS-001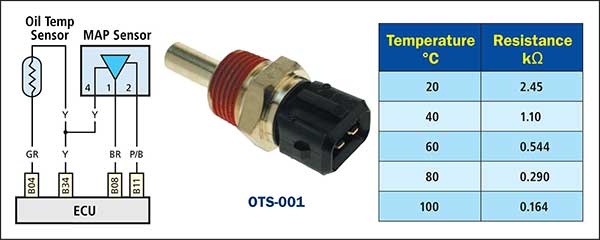 Typical FG Falcon 4.0ltr Turbo OTS wiring diagram, specifications and test procedures: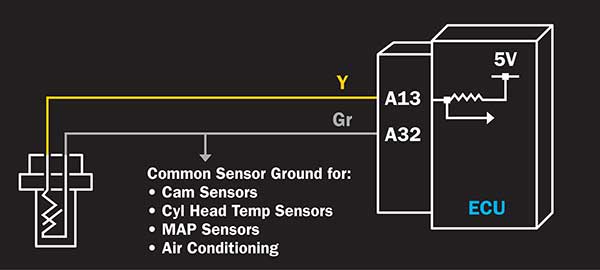 Test equipment requirements for testing this signal is similar for tests carried out on a common engine coolant sensor.
Suitable scanner monitoring the engine oil temperature.
Multimeter monitoring the Sensor Earth plausibility as well as the output signal voltage as the engine oil alters temperature.
Note: the ohm meter may be used directly on the sensor terminals with the harness disconnected to test for plausible resistance values at varying oil temperatures. (this is a guide only and not a thorough test)
Typical expected voltages:
Engine cold expected output voltage

- Approx. 3.9V

Engine at 60 Deg C

- Approx. 2.5V

Engine at normal operating temp

- Approx. 1.2V

Resistance across the terminals:
Engine at 20 Deg C

- Approx. 37 K Ohms

Engine at 90 Deg C

- Approx. 2.8 K Ohms
Note: Any major variations to these specifications requires a thorough test on the Ground Circuit and wiring prior to any OTS renewal.
The test procedure may be necessary when a related Fault Code is logged.
P0195 – Engine Oil Temp Sensor Malfunction
P0196 – Engine Oil Temp Sensor Range/Performance
P0197 – Engine Oil Temp Sensor Low
P0198 – Engine Oil Temp Sensor High
P0199 – Engine Oil Temp Sensor Intermittent.
Note: Ensure other engine factors are considered when some of these codes are logged. Typically, Engine cooling system problems will affect expected oil temperatures.
A Typical OTS sensor function for Diesel engines:
The Engine OTS signal is utilised by the Powertrain Control Module (PCM) on a Diesel to "assist" in the calculation for when and how much fuel is required for optimum starting and engine operation.
Including:
Glow plug "ON" time
Dash glow plug "ON" time
Exhaust pressure regulator actuation
Idle speed
Fuel delivery
Injection timing.
Typical symptoms of a failed OTS unit or circuit:
Fault codes logged
Engine runs rough when cold but improves as heated.
Hesitation at light pedal low RPM.
Surging at constant low to mid RPM.
Engine may not re-crank when hot. Engine may need to cool prior to restarting.
Combination Engine Oil Temperature and Engine Oil Level Sensor.
Temperature Sensor, Oil Level Sensor and electronics combined in one unit.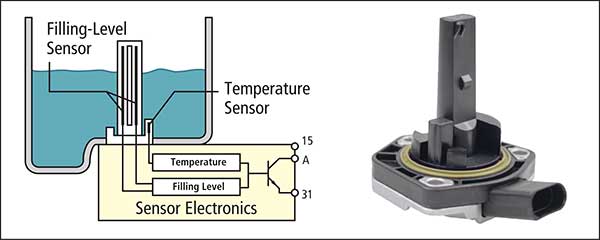 Simple tests to be carried out.
Visual test – Any physical damage may cause oil leakage or poor electrical connection.
Supply Voltage and Ground plausibility. – A multimeter, scanner or suitable oscilloscope can be used to verify these results.
Output signals: A suitable scanner can display relevant temperature information. A suitable oscilloscope can display the signal plausibility.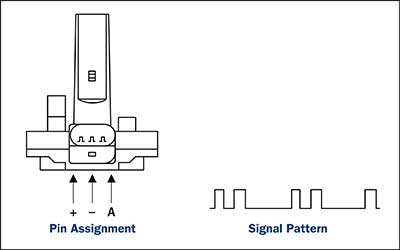 The Premier Auto Trade Sensors range includes Oil Temperature Sensors (OTS) from the world's leading manufacturers, covering almost 800,000 vehicle applications in Australia and NZ.
When you supply and fit products from Premier Auto Trade you can expect a product designed and tested to the vehicle manufacturer's specifications offering OE form, fit and function.
Premier Auto Trade distributes products throughout Australia via a network of specialised resellers and leading automotive groups.