Latest News
Flasher Cans
What technicians need to know about the types, diagnosis and fault finding of Thermal, Electro-mechanical and Electronic flasher cans and their related circuitry.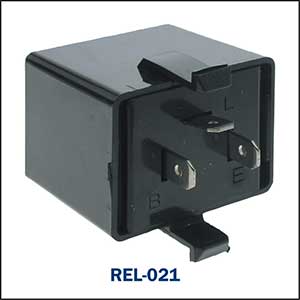 Due to the variety of available flasher cans and the varying electrical loads placed on them such as when the vehicle may be connected to a box or boat trailer or a caravan, understanding the load requirements for the flasher cans will ensure the correct unit is fitted for the application and loads so "flashing rates" remain constant.
Common types available:
1. Mechanical (Thermal) type Flasher Can
These 2 or 3 terminal type flasher cans are generally utilised by earlier vehicles, but it is important to ensure the operating electrical load does not exceed the required rating that allows the flasher rate to be stable.
Suitable for vehicles manufactured prior to 1990 only due to ADR rule requirements.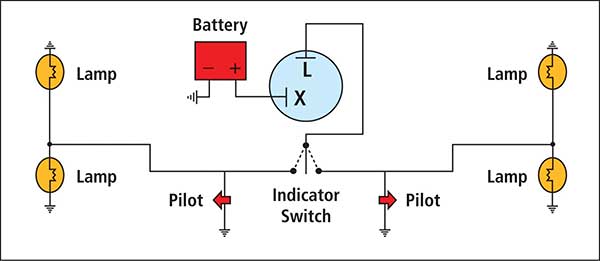 A typical simple 2 terminal "thermal flasher can" electrical circuit
(A 3 terminal unit utilises a separate "Pilot Light" terminal)
Note: the flashing cycle for the thermal type units relies on heating and cooling a bi-metallic strip that opens and closes a set of contacts that supplies a current to the required globes during the contact closed period.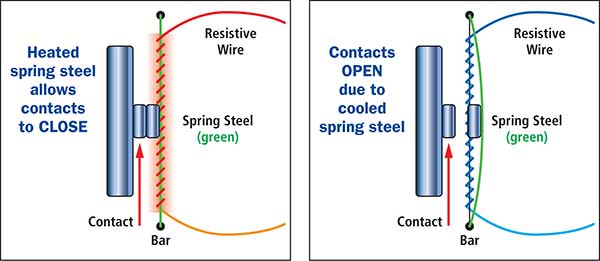 Simplified operation
When the turn signal is activated, a small current flows through the resistive wire creating expansion that causes the curved spring steel to straighten and close contacts, which allows current to flow to the signal lights unimpeded by the resistor. With now interrupted current through the resistor, the spring steel is allowed to cool and resumes the curved shape causing the contacts to open and prevent current flow to the globes. The cycle will then continue whilst the turn signal is activated at a rate of 1 to 2 times per second. The changing shape of the spring steel creates the audible blinker sound.
Typical maximum load ratings may be: up to 6 x 21 watt globes
Exceeding the maximum load rating generally dramatically alters the flashing rate. The use of LED globes will also result in altering the flashing rate when a thermal unit is used.
Note: A suitable flasher can must be used when loads are altered. A substitute (relay) electronic flasher unit may be substituted for this type if required.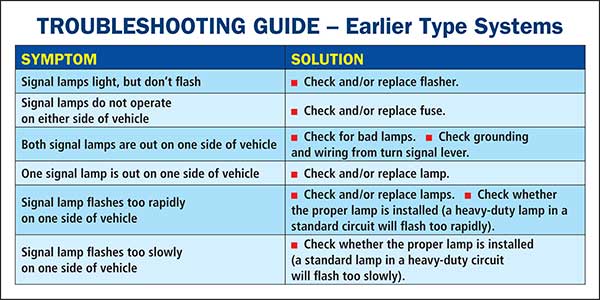 2. Electro-Mechanical type Flasher Can
The electro-mechanical type flasher has an electronic flasher control circuit to operate the internal Electro-mechanical relay. This type has a very stable operation and generally has lamp outage sensing that causes the flash rate to double when a bulb is out.
Typical 3 terminal type.
"X" or "B" or "49" or "+" = Power supply
"P" = Pilot Light (Dash)
"L" or 49a = Lamps or indicator switch
Capacitor - the flash rate and duty cycle may be controlled by charging and discharging a capacitor. The battery voltage drives the timing mechanism.
Unlike the thermal type, this flasher can pulse rate is not influenced by the varying electrical load.
3. Electronic Flasher Can: (Load sensitive type)
Utilises Integrated circuit technology that allows these units to conform to ADR13.
Features of these units:
Accurate flash rate
Accurate duty cycle
Lamp outage indication
Added load indication
Overload protection
Available in standard or heavy-duty application
Multi terminal units require an Earth terminal ("E" or "31")
Typical 3 terminal Electronic flasher can circuit.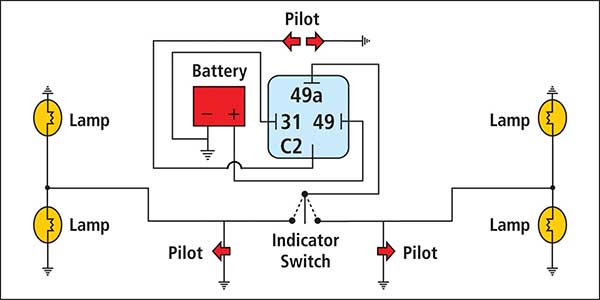 Typical 4 terminal Electronic flasher can:
Suitable for caravan or trailer where additional pilot circuit on the trailer is required.
Note: 5 terminal units are also available but many current vehicles flashing functions have moved to the ECM unit.
The Premier Auto Trade Sensor range includes Flasher Cans (REL) from the world's leading manufacturers, covering almost 2 million vehicle applications in Australia and NZ.
When you supply and fit products from Premier Auto Trade you can expect a product designed and tested to the vehicle manufacturer's specifications offering OE form, fit and function. Premier Auto Trade distributes products throughout Australia via a network of specialised resellers and leading automotive groups.