Latest News
Oil Level Sensors (OLS)
What Technicians need to know about Engine Oil Level Sensor systems on today's motor vehicles.
Typical oil level sensor operating principal.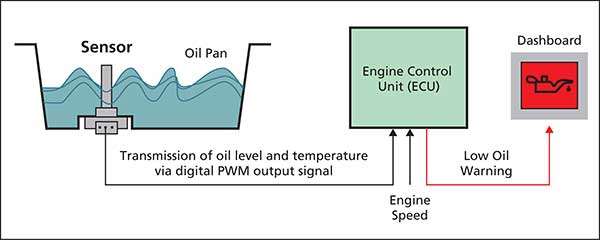 Many current vehicles have done away with the standard Engine oil level dip stick for regular oil level checks and have instead incorporated an electronic "oil level" and "oil temperature" sensor that displays the relevant information on the dash.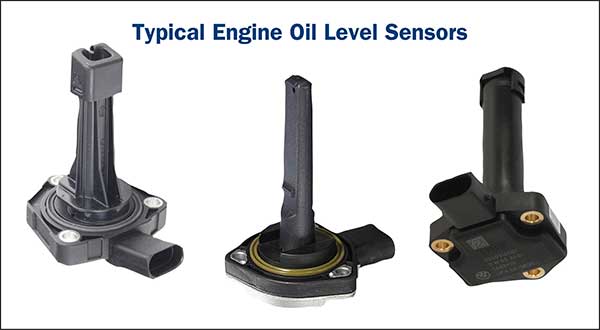 Many other vehicles utilise the combined "oil temperature" and "oil level" sensor but also retain the manual dip stick. Other vehicles, such as the VE Commodore SIDI engine may utilise an "oil temperature" sensor integrated with an "oil level warning switch" but still requires manual dip stick checking for oil levels.
With a variety of these combination sensors and switches becoming common on current vehicles, it is important for the Technician to be familiar with the function, operation and testing of the different types.
Engine oil level sensor with integrated engine oil temperature sensor.
The sensor is designed for vertical installation and is prone to fail in two ways: It can fail electrically, or it may be the cause of an oil leak. The output for an oil level sensor is commonly a PWM signal.
The output for an oil level switch is generally an on / off signal.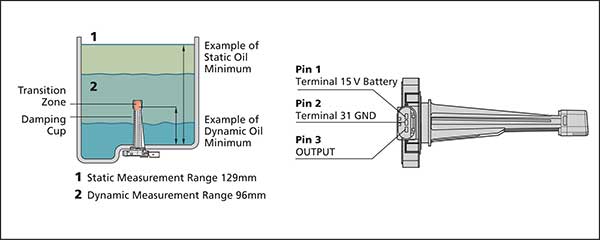 The Premier Auto Trade Sensors range includes Oil Level Sensors (OLS) from the world's leading manufacturers, covering almost 800,000 vehicle applications in Australia and NZ.
When you supply and fit products from Premier Auto Trade you can expect a product designed and tested to the vehicle manufacturer's specifications offering OE form, fit and function.
Premier Auto Trade distributes products throughout Australia via a network of specialised resellers and leading automotive groups.