Latest News
BMC Air Filters

BMC Air Filters, designed and manufactured in Italy, were originally developed in association with the Ferrari F1 team. BMC filtration systems give better performance to the engine, both in terms of power and torque without compromising reliability. BMC Air Filters demonstrate the highest quality, performance and reliability and have no equal in the market.
BMC Air Filters are designed and produced to ensure a higher air flow than original filters, producing less than half the pressure drop when compared to paper filters. BMC Air Filters allow more air into the engine in comparison, while providing better protection.
The BMC Air Filter is composed of a metallic mesh containing an oiled four–ply cotton filtration material. This ensures a high level of filtering efficiency with guaranteed containment of all impurities down to 7 microns, where paper filters generally only offer filtration of particles of 10 microns.
The unique construction of BMC Air Filters results in both Increased Power and Improved Fuel Economy.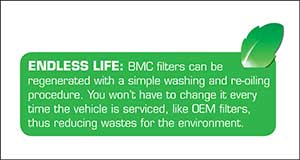 Why is BMC better than others?
Wider filtering surface
Greater performance
Maximum air permeability
Greater retention and screening
Best "Pressure Drop" ratio
International tests homologation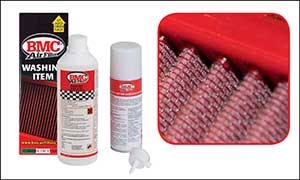 BMC Technology
The BMC Air Filter element is composed of layers of special cotton gauze soaked with low viscosity oil inside an epoxy coated double alloy mesh, to ensure protection from dirt particles, petrol fumes and oxidisation due to air humidity. The cotton is treated with specially formulated oil causing its "sticky" adhesive characteristic throughout the cotton's microscopic strands which aids in the retention of air impurities.
The nature of the cotton allows high volumes of airflow, and when combined with the oil creates a high efficiency air filter.
The BMC Air Filter production system is based on soft moulding, made in a single piece using a system called "Full Moulding" offering no welded joints, avoiding breakage or deformation.
BMC uses a compound of resins which make the filter stronger and avoids the filter "sucking" into the airbox. The filtration element is contained within an external metallic support frame which interfaces with the air-box allowing it to be securely installed; it is also highly heat-resistant with superior sealing properties.

BMC and Motorsport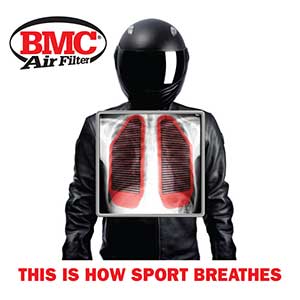 BMC Air Filters is one of the most recognised brands in the automotive industry and are the most successful filter in many sports categories including;
Formula 1 Champions 10 times
Australian V8 Supercar Champions 9 times
World Rally Championships 2 times
American Le Mans titles 11 times
Le Mans 24 Hours titles 13 times.
BMC has enjoyed many years of success in the Australian V8 Supercars Championship with BMC Team Partners winning 9 of championships and 8 Bathurst 1000 wins. BMC has partnerships with several leading Supercar teams in pursuit of continued Supercar Championship success.

OE Performance Products
BMC is ORIGINAL Equipment (OE) on many of the world's best road cars including;
Most Ferraris, including La Ferrari
Lamborghini Gallardo
BMW M3
Porsche 911 GT3 RS & 918 Spyder
Fiat 124 Spider Abarth & Abarth 500
Mercedes SL65 Black Series and more

OE Replacement Filters
BMC Air Filters are not just manufactured for racing applications, regular vehicles can also benefit. BMC offers a huge range of OE Replacement Air Filters, designed to replace the original paper or foam filters in many popular vehicles.
BMC offers filters for over 9000 vehicle applications including Holden, Ford, Toyota, Honda, Mazda, Kia, Nissan, Toyota, Lexus, Hyundai and a whole lot more.

4WD Vehicle Applications
BMC Air Filters has also expanded their range of high-performance air filters developed for Australian 4WD vehicle applications. The range includes high performance OE replacement air filters for a wide variety of 4WD vehicles, including:
Toyota Hilux and Landcruiser;
Mitsubishi Pajero;
Nissan Patrol and Navara;
Ford F Series V6 and V8;
Toyota FJ Cruiser;
Ford Ranger and Courier;
Prado 4.0L V6;
Jeep Wrangler 3.6L V6;
Holden Rodeo RA 3.0L Turbo Diesel;
Nissan Navara D40M;
Pathfinder 2.5L Turbo Diesel;
Mazda B2500; Holden Colorado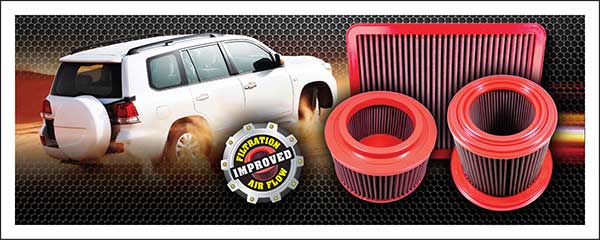 Performance Filters & Intake Systems
BMC offers a full range of automotive High-Performance Air Filters and Air Intake Systems. These Air Intake Systems are designed to completely replace the OEM air‑box of the car. They are designed to increase engine performance both in terms of power (HP) and torque (NM).
The Range Includes:
Conical Filters – Single and Double Air
DIA – Direct Intake Air System
CDA – Carbon Dynamic Airbox
OTA – Oval Trumpet Airbox
CRF – Carbon Racing Filters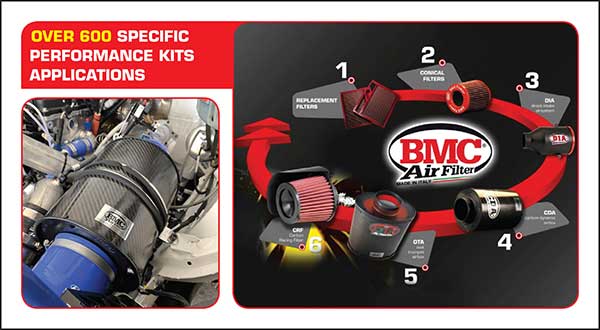 The Premier Auto Trade range includes over 500 BMC Air Filters and kits, covering over 15 million vehicle applications in Australia and NZ.
When you supply and fit products from Premier Auto Trade you can expect a product designed and tested to the vehicle manufacturer's specifications offering OE form, fit and function. Premier Auto Trade distributes products throughout Australia via a network of specialised resellers and leading automotive groups.