Latest News
Exhaust Pressure Sensors (EPS)
What technicians need to know about Exhaust Pressure Sensor types, operation and diagnosing/testing when working on the vehicle emission control system.
Purpose of the EPS
This sensor is a pressure differential sensor required by the ECU to monitor the restriction level of the Diesel Particulate Filter (DPF) so the ECU can perform levels of DPF regeneration procedures depending on how much soot has been stored in the DPF.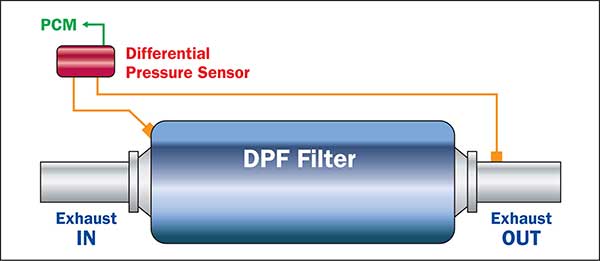 What does this mean?
Most (but not all) CRD vehicles are fitted with a Diesel Particulate Filter to filter/store "soot" and "ash" that is the bi product of combustion and reported as harmful to humans and to the environment before they are released from the exhaust into the atmosphere.
When the level of these stored products start to restrict the exhaust flow through the filter (DPF), the ECU requires to eliminate the restriction by temporarily increasing the internal temperature of the DPF and allowing the soot to alter its structure when reacting with the extreme heat and the DPF internal material structure.
During the reaction, the solid soot mass is combusted and released in a gaseous form that is much lower in emission levels.
Note: It is important to note that unlike Soot, the Ash quantity trapped in the DPF cannot be combusted and tends to be stored internally and eventually becomes problematic. The Ash is generally increased in quantity when engine oil is burnt in greater volumes than expected.
Regeneration process
The pressure difference between "exhaust in" on the DPF and "exhaust out" on the DPF, monitored by the Exhaust Pressure Sensor is utilised by the ECU to select and perform a DPF regeneration procedure.
Passive regeneration
This increased quantity of fuel occurs automatically with no warning light indication displayed.


Active regeneration
When the soot loading reaches approx. 45%, indicated by the signal from the EPS to the ECU, allows the increase in fuel commanded by the ECU to enter the DPF when the conditions are suitable.
Note: If the DPF remains partially restricted after these regeneration processes, then the ECU will demand a Forced or Manual regeneration procedure to take place. This requires the use of a suitable scanner and must not be carried out in enclosed premises.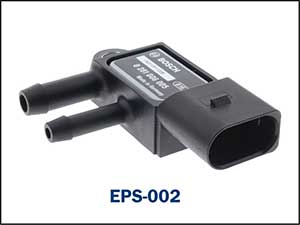 Exhaust Pressure Sensor / Pressure Differential Valve – Plausibility Test
Note: When a fault in the DPF/Exhaust pressure Sensor system occurs, it is important to correctly determine which component (if any) is at fault due to the generally high cost of a new DPF.
EPS plausibility test using a Multimeter
A typical expected output signal voltage for an EPS signal on a DPF system that is unrestricted is Generally: Approx. 0.5 - 0.7V at Idle. Note: A partially restricted DPF may increase this reading a small amount but requires further tests.
At Full Load (approx. 2000RPM is acceptable) on an unrestricted DPF the expected output signal Voltage would have a typical reading of approx. 1.6V. Note: A restricted DPF would generally indicate an increased voltage that could be as high as 4.0V on a DPF that is excessively restricted.
Testing the EPS with a suitable Scanner
A scanner can quickly allow for a variation of monitoring signals. Typically testing Soot Mass in grams.
Example:
Typical unrestricted DPF Idle reading of = 1.41g
A Soot mass of 99g would require the DPF to be replaced.
A typical restricted DPF may indicate around 22g Soot Mass.
Pressure reading: A typical EPS scanner reading for pressure may be approx. 6-10 hPa at idle. This pressure should not exceed 100hPa at Idle.
Note: a "restricted DPF" during road test load conditions may indicate a reading of approx. 300-350hPa that would require replacement of the DPF to rectify driveability concerns.

A suitable oscilloscope can also be used to investigate the output signal.
Note: on some later EPS units, the output signal may vary to a conventional EPS due to the Piezo signal. These quick reacting type sensors display the internal DPF pressure turbulence and the signal may be confused with a signal that has been affected by external electrical noise.
The Premier Auto Trade Sensor range includes Exhaust Pressure Sensors (EPS) from the world's leading manufacturers, covering over 600,000 vehicle applications in Australia and NZ.
When you supply and fit products from Premier Auto Trade you can expect a product designed and tested to the vehicle manufacturer's specifications offering OE form, fit and function. Premier Auto Trade distributes products throughout Australia via a network of specialised resellers and leading automotive groups.